Brief
Augmented Reality Company Meta to Put 75% of Employees on Hiatus
The company says it will use the hiatus to open a second headquarters in China to become more "resource-effective"
Silicon Valley-based augmented reality company Meta Company has put three-quarters of its employees on hiatus during the month of September. Meta announced a plan to restructure earlier this month, citing the "economics and dynamics" of the AR market and saying the move is set to ensure the company continues to operate "in the most cost and resource-effective manner possible while maintaining a competitive edge."

Founded in 2012 by Israeli entrepreneur Meron Gribetz, Meta develops AR headsets that combine 3D glasses and an Intel-made camera that tracks hand movements. The headsets are designed to allow users to create and intuitively interact with customized spatial operating environments. The company received early backing from Y Combinator and has raised more than $82 million to date from investors including Comcast Ventures, Tencent Holdings, Lenovo, Horizons Ventures, and Israeli entrepreneur Moshe Hogeg's venture capital firm Singulariteam Ltd., according to Pitchbook data.

Meta said that it would use the hiatus to open a second headquarters and innovation lab in China. Meta also said it intends to launch a third innovation lab in Israel, pending the close of an upcoming funding round.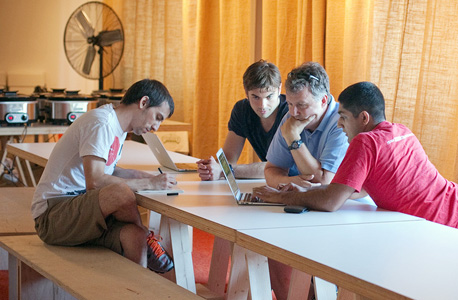 Y Combinator (illustration). Photo: Y Combinator