Red Dot Capital Partners leads $35 million investment in rebranded Israeli startup EverC
EverC, formerly EverCompliant, operates in the cybersecurity sector, focusing on the prevention of online money laundering
Israeli startup EverCompliant announced on Thursday that it had completed a $35 million series B investment round as well as the renaming of the company to EverC. The round was led by Israeli venture capital fund Red Dot Capital Partners which invests in growth stage companies. Maor Partners also participated in the round together with the company's current investors, including Joey Low, Viola Ventures, Arbor Ventures and American Express Ventures.

EverC operates in the cybersecurity sector, focusing on the prevention of online money laundering. According to the company, global e-commerce volumes were on the rise even prior to the Covid-19 crisis, but the pandemic has significantly accelerated the rate of adoption of digital payment solutions. This surge has also been accompanied by a rise in online criminal activity, with the Wirecard collapse providing an example of the unprecedented magnitude of money laundering activity online. EverC has calculated that approximately $500 billion are laundered every year through fraudulent e-commerce transactions. EverC noted that there are between 6 million and 10 million traders worldwide who use a payment system to process online deals without the knowledge of the financial institution through which they operate.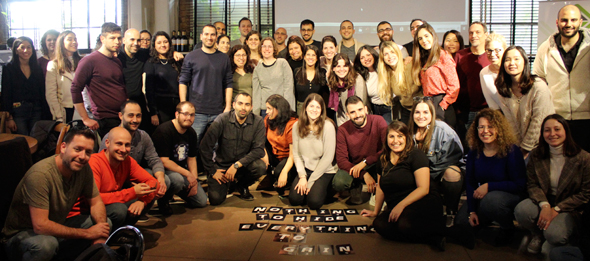 The EverC team. Photo: EverC
"It has never been easier to hide in plain sight," said EverC co-founder and CEO Ron Teicher. "We believe that sunlight is the best disinfectant and that transparency and visibility are crucial to doing business in the digital age. EverC aims to increase the sense of security at organizations that operate in the online payment sector by providing them the tools, data and insights needed to navigate between the dangers they are facing and the potential growth thanks to new opportunities."
Barak Salomon, managing partner at Red Dot Capital Partners, who will join the company's board, added: "In parallel with the amazing growth in the volumes of e-commerce, and perhaps also as a result of that, there is a huge increase in online crime. The fact that EverC is at the forefront of research in the machine learning and artificial intelligence sectors allows it to develop technologies that can successfully deal with a problem of such a massive proportions which directly impacts everyone's lives."