Double-chin reducing Israeli startup closes $74 million China licensing deal
The agreement provides JuveStar with exclusive rights to develop and commercialize Raziel Therapeutics' proprietary RZL-012 compound
Israel-based pharmaceutical company Raziel Therapeutics Ltd. announced on Tuesday the signing of a major licensing deal with China's Fosun Pharma for milestone payments of up to $74 million. Raziel Therapeutics entered the agreement with Tianjin JuveStar Biotech Co., Ltd., a company invested and incubated by Shanghai Fosun Pharmaceutical.

The agreement provides JuveStar with exclusive rights to develop and commercialize Raziel's proprietary RZL-012, an injection used for reducing double chins, in mainland China, Hong Kong, Macau, and Taiwan.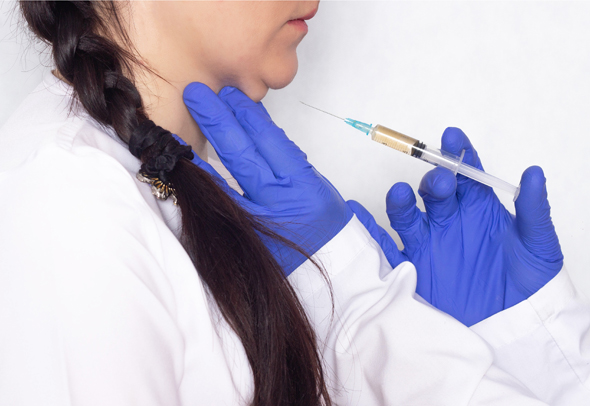 A doctor injects a compound into a patient's chin. Photo: Shutterstock

RZL-012 is an injectable drug product indicated for the aesthetic treatment of adults having moderate to significant submental fullness, commonly referred to as a double-chin. The compound destroys fat cells, resulting in fat volume reduction and improved appearance of the chin area. In the future, it is set to be used to reduce fat in other parts of the body.

Under the terms of the agreement, Raziel Therapeutics will receive potential payments (including upfront and R&D milestone payments) of $27 million between now and marketing approval in the territory. Raziel is also eligible to receive additional potential sales milestone payments of up to $47 million, as well as tiered royalty payments on future net sales. JuveStar will be responsible for conducting necessary clinical studies (Phase III), marketing and sales in the territory, while Raziel will be responsible for manufacturing the drug substance and finished drug product for both the clinical and commercial activities in the territory. There will be no transfer of intellectual property.

"Fosun Pharma is one of the leading healthcare companies in China, with expertise and access to both the aesthetic and therapeutic markets. We see Fosun Pharma as an ideal partner to commercialize RZL-012 in the fast-growing aesthetic Chinese market," said Alon Bloomenfeld, president and chief executive officer at Raziel Therapeutics. "Fosun Pharma already has a growing portfolio of products in facial aesthetics, the field in which we plan to gain the first approval for RZL-012. We look forward to working with the Fosun Pharma team on the clinical, regulatory, and commercial pathways to introduce RZL-012 to this important, developing geography."

The Israeli company has raised a total of $30 million to date. In December 2019 it completed a $22 million seriec C round was led by Pontifax, with participation from Catalyst Fund, Quark venture, Peregrine Investments, Wille AG, and existing investors.