VidMob set to hire dozens of Israelis following new $50 million funding round
The global company will further establish its presence in Israel as it hires for its creative and content teams
Following the closing of its series C funding round totaling $50 million, VidMob has announced that it plans to hire dozens of Israelis as it expands globally. The company develops an AI platform that helps advertisers identify effective creative campaigns for specific target audiences online.

The plan is to hire dozens of Israeli talents who can help in the company's creative and content output. While VidMob is an American company, it already has a presence in Israel and its technology is already used by Israeli brands in their advertising efforts, such as MyHeritage, Delek Motors, Soda Stream, and more.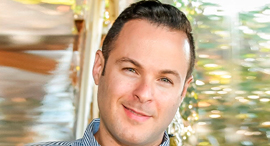 Ellad Kushnir Matarasso, the company's Country Manager for Israel. Photo: Ellad Kushnir

"Despite the fact that Israel is a relatively small market for many international companies, for VidMob this is an important and strategic market, mainly due to the willingness of Israeli customers to adopt innovations and always be at the forefront of technology," explained Ellad Kushnir Matarasso, the company's Country Manager for Israel. We already see a huge interest in our technology in the local market. We work hand in hand with the leading advertising agencies and marketers in Israel and help them understand which creative works best for the brand, using artificial intelligence technology that is based on data."

VidMob's technology connects each distribution channel belonging to a brand - YouTube, Facebook, Instagram, TikTok, and more - and maps successful videos dating back two years. Then, it uses machine learning to examine each video focusing on specific elements, such as logo placement, movements, colors, or sounds. Measuring these, as well as the views and clicks, can tell brands which videos are most successful for their campaigns.

Israel is no stranger to video advertising and harnessing AI to help deliver effective conversion rates for marketing and publishing channels. Companies like Taboola and Outbrain, local to Israel, are already prominent players in the field and with its global expansion, it appears that VidMob will be joining in on the action.

Participants in the latest funding round include Adobe, Shutterstock, Spruce House Partnership, Prefix Capital, BuildGroup, Interlock Partners, and Macanta. In total, the company has raised nearly $100 million.