Microsoft Israel to Award Scholarships to Transgender Students
This is the second year of the scholarship program. Last year the company funded nine full-tuition scholarships
Microsoft Israel and the Israeli chapter of GLEAM, an LGBT employee resource group operating at the company, plan to fund nine full-tuition scholarships to transgender students in Israel.

The company partnered with the Ma'avarim - Israeli Trans Community organization for the initiative. The organization will fund additional three scholarship, to be paid for via a crowdfunding campaign launched in June.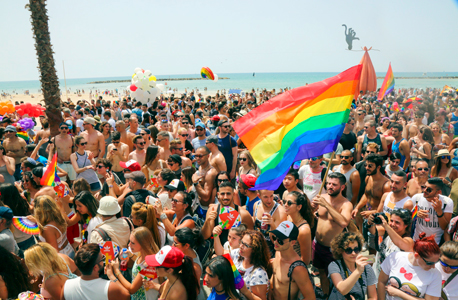 The 2017 Tel Aviv Pride Parade

The scholarships will be awarded based on predetermined criteria for the first year of study, and will not cover living expenses or additional costs.

This is the second year of this scholarship program. Last year nine such scholarships were awarded, also by Microsoft through Ma'avarim.

According to Microsoft's website, GLEAM drives LGBT-friendly changes in company policies and in the work environment and promotes activities within Microsoft that raise awareness. Microsoft Israel also sponsored a truck in the 2017 Tel Aviv Pride Parade in June, supported the Pride Parade in Jerusalem and is collaborating with the Tel Aviv Municipal LGBT Community Center.

"Our aim, together with Ma'avarim, is to empower the community's members and to provide them with equal opportunities for education, employment, and social integration," said the chairman of GLEAM Israel Kobi Maimon. "It's the first step in building a strong, supportive community."