'Nazis Won the War' Video Game Online Sales Restricted in Israel
Israeli video gamers will be forced to find a workaround if they want to play the Jewish hero of Wolfenstein II: The New Colossus
A new, action-heavy video game directly deals with the Nazi Party's near extermination of European Jewry—but in Israel, the distribution of the game is being restricted by its developer, Bethesda Softworks Llc.

For daily updates, subscribe to our newsletter by clicking here.

In an online FAQ dated October 26, Bethesda, a subsidiary of Maryland-based ZeniMax Media Inc., informed its customers that Wolfenstein II: The New Colossus is not available in Israel, providing no explanation.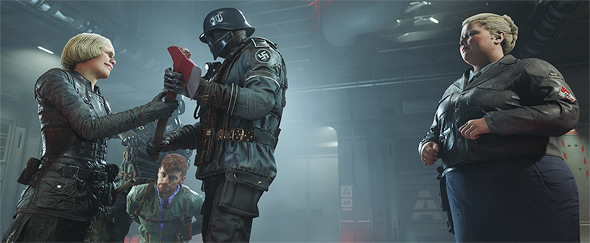 Screenshot from Wolfenstein II: The New Colossus

"We apologize for any inconvenience this may cause," Bethesda wrote. The company did not respond to repeated requests for comment.

Some fans noticed that the game was not available for digital download as early as August 11, when someone with the username SuperJochman posted a question on Bethesda's community board.

"As a gamer who lives in Israel, a proud Jew and a (descendant) of Holocaust survivors, I really cannot understand why is this would-be-awesome game is blocked in Israel," the internet user wrote.

Another user named cool-dude pointed to the irony of blocking access to the game in Israel, of all places.

"You'd think the Jewish state would love a game where the main protagonist is of Jewish descent, and who kills hundreds upon hundreds of evil (censored)," cool-dude wrote. The word censored in parenthesis appeared as is on the Bethesda forum.

Released in 1981, the original title in the Wolfenstein series, Castle Wolfenstein, was the first video game to be explicitly set during World War II.

This year's title, New Colossus, posits an alternative history in which the Third Reich won the war with the help of a special technology developed by a cult of Jewish engineers. The hero of the video game is a Jewish American soldier who spent the war in a coma and wakes up to a terrifying world where Nazis are in power and almost no Jews are left in the world.

The game explores the soldier's Jewish identity and addresses themes such as racism. The Nazi characters in the game are more fully developed than in most video games. They have a personality and even a sense of humor. But at least in one way, The New Colossus is like every other World War II video game: lots and lots of dead Nazis.

Although the game is not offered to Israeli residents through Bethesda's online stores, physical copies of the game are available for sale in Israel through Bethesda's local distributors.

The previous title in Bethesda's Wolfenstein series from 2014, The New Order, was also not distributed in Israel, and game developer Ubisoft Entertainment SA did not distribute its game, South Park: The Stick of Truth, which features nazi zombies, locally.