U.K. Delegation Arrives in Israel for Back-to-Back Meetings With Local Companies
The delegation is backed by London-based U.K.-Israel chamber of commerce UK Israel Business
Hugo Bieber, 34, is the Chief Executive of London-based UK Israel Business (UKIB).

Established in 1950, UKIB is a business connector for Israeli companies in the U.K., nurturing the dynamic growth of business and investment between the two countries. UKIB is a bilateral chamber of commerce and set up as a not-for-profit company.

For daily updates, subscribe to our newsletter by clicking here.

On Sunday, a UKIB investment & technology delegation arrived in Israel for a two and a half days of back-to-back meetings. The delegation is led by Bradley Fried, Deputy Chairman of the Court of the Governors of the Bank of England.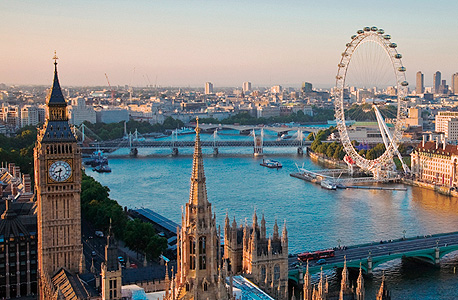 London (illustration)

The following are Mr. Bieber's emailed answers to a questionnaire from CTech. The answers have been lightly edited for style.

Q: What is the purpose of this delegation?

A: Connecting British investors to Israeli innovation and disruption.

Q: Who'll be coming?

A: 36 attendees representing multi billion dollar family offices, private equity funds, venture capital funds, and corporates and private investors from a range of industries, but primarily from the finance and real estate sectors. Twelve of the attendees have been on previous UK Israel Business delegations over the last 18 months.

Q: What's on the agenda?

A: The delegation will meet with a total of 41 Israel-based companies and venture capital firms such as OrCam Technologies Limited, Jerusalem Venture Partners (JVP), equity crowdfunding platform OurCrowd,Check Point Software Technologies, Wix.com, Inc., Vintage Investment Partners, Microsoft Ventures, Intel Ingenuity partner programme, and Grove Ventures.

Q: What would be the desired outcome of the visit?

A: Investments by our attendees and partnerships between Israeli companies and the U.K.

Q: What sort of companies are you looking to meet?

A: artificial intelligence, internet of the soil, automotive technology, big data, marketing technology, drones, digital health, fintech, robotics, and cyber security.