Cineworld Finalizes Deal to Acquire Regal Cinemas
Israeli businessman Moshe Greidinger is pushing for his movie theater company Cineworld to acquire a company twice its size in a deal worth $3.6 billion
Update: The merger between Cineworld Group Plc and Regal Entertainment Group has been finalized, the companies jointly announced Tuesday. London-headquartered Cineworld, which is the smaller of the two movie theater operators, acquired Regal for $3.6 billion. The deal positions Cineworld to better compete with AMC Theaters, the global market leader.
Cineworld Group Plc, Europe's second-largest movie theater operator, was in negotiations to acquire Regal Entertainment Group, a much bigger U.S.-based peer, for $3.6 billion, the companies announced in Novemeber.
For daily updates, subscribe to our newsletter by clicking here .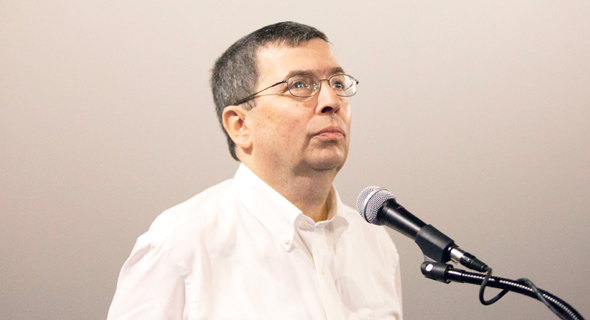 Cineworld CEO Moshe Greidinger Photo: Omer Messinger

Cineworld's CEO and largest shareholder is Moshe Greidinger. He controls of 28% of Cineworld and has committed, through his holding company Global City Holdings N.V., to finance the merger. Regal has a market value of about $3.1 billion, which is nearly double the worth of Cineworld.

With the acquisition , Mr. Greidinger is attempting a complicated maneuver known as a reverse takeover. Mr. Greidinger has engineered a dramatic transition from owning a handful of theaters 30 years ago to becoming one of the most powerful individuals in the industry.

The family movie theater business he inherited included several theaters in the northern Israeli city of Haifa. A few years after he took over, in 1982, Mr. Greidinger opened Israel's first multiplex.

He continued to expand domestically and in 1997 made his first foray into Europe, opening a multiplex in Budapest, Hungary, which was followed by new movie theaters in Poland, Czechoslovakia, Romania and Bulgaria. In 2006, Israel Theaters created its subsidiary Cinema City International N.V. and listed it on Warsaw's stock exchange. Mr. Greidinger came to control the largest operator of multiplex movie theaters in Central and Eastern Europe, with 966 screens across 99 multiplexes.

Four years ago, in the merger with Cineworld, the U.K.-based company paid Cinema City's shareholders $831 million in cash and Cineworld stock. The Greidinger family now owned 25% of Cineworld and then purchased an additional 3%, becoming the company's largest shareholder. Mr. Greidinger was then appointed as the chief executive of the theater group. Under his leadership, Cineworld doubled its market capitalization.

Now, Cineworld has aquired a bigger company, in a deal that values Regal at $23 a share.

Cineworld said it would finance by the acquisition by taking on debt and selling stock.

Global City Holdings N.V., Mr. Greidinger's company, has committed to "full subscription" if the case of a stock offering.