In a Precedent Ruling, Israeli Court Orders Facebook to Reinstate Terminated Page
A popular Israeli Facebook page was shut down by Facebook with no prior notice three years ago after it was revealed that its administrators were paid to publish some of the posts
On Thursday, an Israeli judge ruled against Facebook in a case brought against the social network company by the administrators of Israel's once most popular Facebook page, "Twitting Posts."

For daily updates, subscribe to our newsletter by clicking here.

With over 700,000 followers, the page presented Hebrew memes, cat videos and Israeli human interest stories. But when it came to light in 2015 that some of the content on the page was paid for, Facebook terminated it with no prior notice, citing user agreement violations.

All efforts to overturn the decision failed, even after the administrators promised to refrain from using the page for commercial purposes. Facebook blocked attempts to revive the page under different names again and again. The administrators then turned to the courts.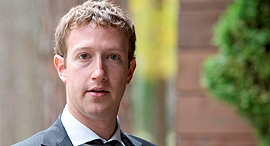 Facebook founder and CEO Mark Zuckerberg. Photo: EPA

According to the ruling, Facebook is required to reinstate the page by 6 p.m. Jerusalem time Sunday, including all posts and followers. Facebook is also required to reimburse the page's administrators for NIS 75,000 in court costs and NIS 150,000 in lawyer fees, within 30 days.

The case sets a precedent, said the plaintiffs' lawyer Guy Offir in a Facebook post. "In no other place or country in the world did a court of law ever compel Facebook to reinstate a terminated page."

While the page's administrators violated Facebook's user agreement, it was not a major violation, said the judge, adding that such a violation called for a warning and no further action.

The judge rejected the plaintiffs' demand for further compensation due to libel.