Tel Aviv Airport, Stock Market Open as Solidarity Strike Ends
Israel's largest labor union called for a half-day strike on Thursday, in support of Teva employees
Update: Tel Aviv airport has resumed flights, and the Tel Aviv Stock exchange opened for business on 1:45 p.m. after a half-day general strike called by an Israeli labor union ended. The country's largest labor union, the General Organization of Workers in Israel, called for the strike on Thursday, in support of Teva employees.
For daily updates, subscribe to our newsletter by clicking here.
On Sunday, Israeli Prime Minister Benjamin Netanyahu said he will meet with Teva's CEO during a government meeting. "I spoke with him last week and told him that our first priority is to minimize damages to employees," the Israeli leader said. "Second, of course, is to do everything we can to prevent the factories in Jerusalem from being shut down. The third priority is to ensure Teva will remain in Israel. It employs thousands of Israeli workers, it was founded as an Israeli company, and we want it to remain an Israeli company. We will use all means at our disposal to achieve those objectives," he said.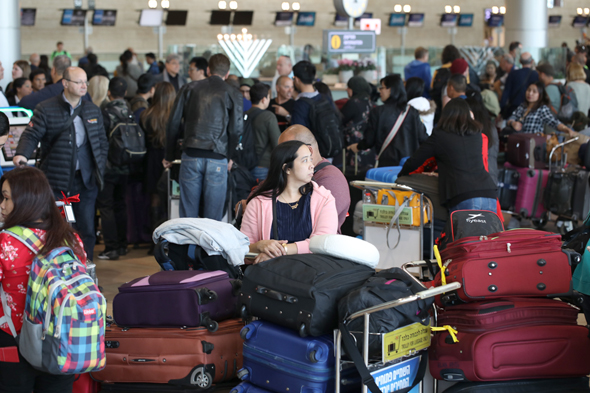 People waiting at Tel Aviv airport during the strike. Photo: Aner Green
Israel's largest labor union has sent Israel's Ben Gurion airport, banks, and government offices are on strike Sunday, in solidarity with employees of drugmaker Teva Pharmaceutical Industries Ltd. Employees of the company blocked roads in Jerusalem Sunday, protesting the company's plans to cut down most of its manufacturing activities in the country, announced Thursday. Teva plans to close the two facilities it has in Jerusalem in 2019.
Teva's Israeli employees declared a one day strike in protest of the extensive layoffs announced. Demonstrations are planned in front of most of Teva's facilities in the country.
On Thursday, the country's largest labor union, the General Organization of Workers in Israel, has called for a half-day general strike in a show of solidarity with Teva employees. While public transportation will continue to operate as usual, flights at Tel Aviv's airport have been moved to earlier time brackets as employees will strike between 8 a.m. and noon. Service providers like banks, governmental offices and municipal authorities will also strike, while hospitals will operate with reduced staff.
On Thursday, Teva released an official statement regarding its restructuring plan, putting an end to nearly a month of rumors, media reports, and employee concerns. The company announced it will let go 14,000 of its global employees over the next two years, more than half of them by the end of 2018, and close or shut down many of its facilities.
A multinational generic drugmaker with assets in Europe and the U.S., Teva was founded in Israel and was regarded for long years a symbol for the country's business ambitions. The company's headquarters are located in Petah Tikva, just east of Tel Aviv. With around 6,500 Israeli employees it was also one of the country's biggest non-governments employers.
According to the restructuring plans announced Thursday, the company will let go or around 1,700 people in the country, 1,200 within the year, including 560 of the almost 1,500 people currently employed at the company's headquarters. Additional employees will part from the company due to non-core asset divestment.
The company intends to sell its facility in the port town of Ashdod, which employs around 250 people and manufactures products for medical processes such as dialysis and Intravenous therapy, pain medication like Paracetamol, an anti-cancer medication. The company is also interested in selling its facility in the northern town of Kiryat Shmona, which employs over 200 people. The plant produces plastic-based medical devices.
Teva is currently in the process of optimizing and reducing its operations and product offerings in an effort to stabilize its cash flow and decrease its expenses. The company is carrying almost $35 billion in debt due to loans that were taken to finance its $40.5 billion acquisition of Allergan's generic business in 2016. Plummeting prices and increased competition in the generic drug market and the expiration of Teva's patents for its brand-name cash cow drug Copaxone have seen Teva's revenues and financial outlook shrink, again and again, sending both its stock price and its credit rating crashing down and casting doubts on its ability to meet its financial obligations.
The current cutbacks are expected to reduce Teva's total cost base by $3 billion by the end of 2019, the company said in its Thursday filing. Teva also announced that it will not pay annual bonuses for 2017 and immediately suspend dividends on ordinary shares and ADSs. Due to its refocus on complex generic drugs, the company intends to close or sell a "significant double-digit number" of its manufacturing plants and research and development facilities in the U.S., Europe, Israel and in growth markets in the next two years, with more reorganization planned for the three years after that.
"Making workforce reductions of this magnitude is difficult, and we do not take them lightly," Teva's CEO Kåre Schultz said in a letter to employees Thursday. "I am aware that we will be parting with people who have dedicated years and contributed a great deal to this company, and I deeply appreciate their commitment. However, there is no alternative to these drastic steps in the current situation."
Teva's employees feel they are paying the price for the company's years-long mismanagement. "There are people here who gave half their lives to the company," said a veteran employee at one of Teva's Jerusalem facilities during an employee meeting with management. "Had you told us expenses needed to be reduced, we would have cooperated. But you didn't. You told us we met every objective. We're angriest about the fact that the company didn't trust us."
Also contributed to the report: Adrian Filut and Tomer Hadar