The U.S. Can Not Do Away with North Korea's Nuclear Power, Says Former Israeli Prime Minister Ehud Barak
North Korea's Kim Jong-un will use nuclear ability to secure his hold on power, said Mr. Barak speaking at a Calcalist conference Monday
The U.S. cannot do away with North Korea's of nuclear ability, said former Israeli Prime Minister Ehud Barak, speaking at a Calcalist conference held in Tel Aviv Monday.

For daily updates, subscribe to our newsletter by clicking here.

"As the biggest global power, the U.S. is capable of almost eradicating North Korea, but it does not have the capacity to surgically remove the country's nuclear capabilities," Mr. Barak said. He added that North Korea's leader Kim Jong-un has seen the fall of such dictators as Saddam Hussein and Muammar Gaddafi and believes that nuclear ability will secure his hold on power. Mr. Barak warns of a possible greater war, a possibility "no one around President Trump wants to see." He claims this remains an unpredictable front, that may change everything.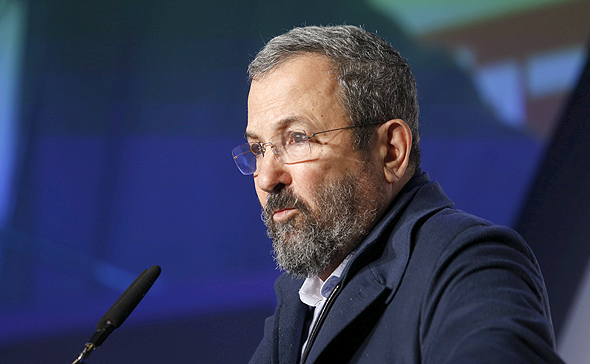 Former Israeli Prime Minister Ehud Barak at the Calcalist conference tonight (Monday). Photo: Amit Sha'al

"America is consciously choosing to step down from its historic role as bearer of the flag of liberty, democracy, and human values," Mr. Barak added referring to Mr. Trump's foreign policies. The U.S. is "knowingly relinquishing its role as world leader, and the result will be a weaker America, both morally and politically," he added. According to Mr. Barak, this vacuum will be filled by other players - first and foremost China, and in a more limited capacity, Russia.

Referring to economic and social changes, the former Israeli Prime Minister said the connected industry will upend most current jobs. "The fourth industrial revolution is just around the corner, and its effects are already becoming apparent. Any human action, which can be analytically described, will be better performed by robots, rather than humans. Not just manual labor - even tasks we normally associate with human intelligence," he said.

Mr. Barak added that this might lead to political and social crises since a large portion of the workforce will become obsolete, in any financially motivated calculation. "Robots will always be cheaper and faster." He also claimed that Israel is one of the countries best prepared for this new reality since it puts an educational emphasis on science, flexibility, and innovation, creating more valuable human workers.

He also referred to the new state in which large tech companies set global agendas. The clashes between Mr. Trump's administration and the leading technology companies in the world--Amazon, Microsoft, Google, Facebook, and Apple--is due to this intrinsic power struggle and not just to the immediate issues at hand.

Mr. Barak noted that we see a reversed process in China where the government understands this conflict and is attempting to form a monopoly on information and artificial intelligence. "What's happening there brings to mind what George Orwell was talking about. It is definitely going to be a battle," he said.