Predictive Care Startup CLEW Medical Raises $10.5 Million
The Israel-based startup developed a web platform and mobile app used for the early detection of life-threatening complications in patients in intensive care units
Predictive care startup Clew Medical Ltd. (formerly Intensix) announced Wednesday the completion of a $10.5 million investment round. The round was led by Israeli venture capital firm Pitango Venture Capital with participation from Israeli venture capital company Agate and German medical cooperation Rhön-Klinikum AG.

For daily updates, subscribe to our newsletter by clicking here.

Founded in 2014 and headquartered in Netanya, a city 19 miles north of Tel Aviv, Clew developed a web platform and mobile app used for the early detection of life-threatening complications in patients in intensive care units. The platform, also launched on Wednesday, uses big data analytics and machine learning to process large amounts of patients' data collected at the ICU.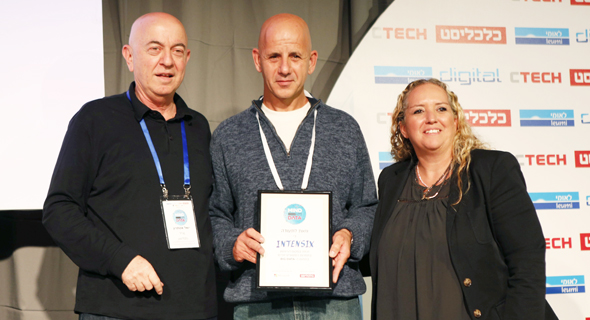 Calcalist Publisher Yoel Esteron with Intensix management team. Photo: Amit Sha'al

In a statement, Clew said their system provides actionable tracking for at-risk patients, patient flow and clinical path management, actionable analytics to determine if the patient's level of care should be altered and real-time clinical resource prioritization.

In a statement, Clew CEO and Founder Gal Salomon said that more and more hospitals around the world are adapting to the digital age of medical technology. "With our advanced clinical ICU-tested algorithm that customizes physiological models and predicts patients deterioration before it happens, our goal is to bring hospitals into the future of medical care, and redefine healthcare delivery," he said.