2017 Was a Record Year for Tourism in Israel
Tourism from China increased 46% from 2016 to a total of 105,000 visitors
More tourists visited in Israel in 2017 than in any previous year, the country's Ministry of Tourism said in a report published Wednesday. Israel hosted 3.6 million visitors this year, a 25% increase from last year, the report said citing data from January through November.

For daily updates, subscribe to our newsletter by clicking here.

Tourists from the U.S. are the largest group, with 716,000 people from the country having come to Israel in 2017, a 21% increase from the previous year. In second place, there is Russia, with a 26% increase, which amounts to 307,000 tourists. France is third with 284,000, an 8% increase.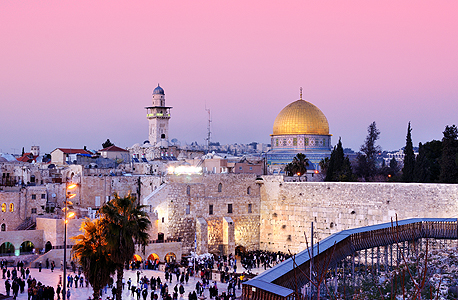 Jerusalem. Photo: Shutterstuck

Israel received 105,000 Chinese tourists this year, the seventh largest group by country. This figure represents a 46% increase from 2016 and a 139% increase from 2015. The increase led to increased number of direct flights launched this year between Israel and China.

In September, Hainan Airlines Holding Co Ltd. officially opened its non-stop Shanghai-Tel Aviv service, which offers flights on Tuesdays, Thursdays and Sundays, and ramped up its existing service between Tel Aviv and Beijing, launched in 2016, from four weekly flights to five. Hong Kong-based Cathay Pacific began offering four flights a week in March, which will increase to six times a week in March.

The data also shows that 30% of visitors arrived as part of guided trips, and 25% of all visitors arrived for religious pilgrimage. 41% of the tourists had been to Israel at least once before.

Among those surveyed, 78% said they would visit Jerusalem, 67% said they would go to Tel Aviv, 49% to the Dead Sea, and 35% to the Sea of Galilee and the mountainous Galilee region in the north of Israel.