Heavy Opposition Expected for Planned Israeli Ban on Cryptocurrency Companies
The Israeli regulator published a plan to bar cryptocurrency-related companies from trading on the Tel Aviv Stock Exchange Thursday
A planned new regulation that would see cryptocurrency related companies banned from the Tel Aviv Stock Exchange is expected to see substantial opposition. According to a Thursday announcement, the Israel securities authority will move to bar cryptocurrency-related companies from trading on the Tel Aviv Stock Exchange unless they have $30 million (NIS 100 million) in equity and have been active for at least three years.

For daily updates, subscribe to our newsletter by clicking here.

The plan is open to public scrutiny until the 25th of January, and authority is gearing up for public criticism and perhaps even legal opposition, on grounds that the authority's duty is to ensure transparency for investors—and as long as all information is fully disclosed investors must be expected to make their own informed decisions.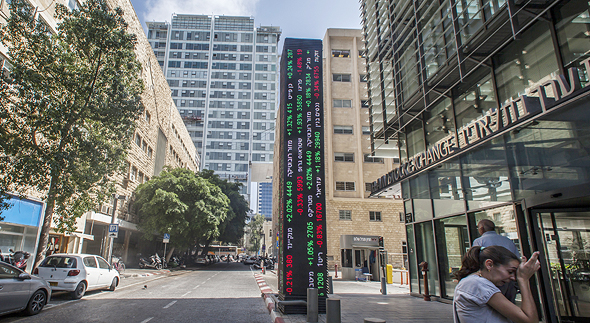 Tel Aviv Stock Exchange. Photo: Bloomberg

Other countries have also started considering cryptocurrency regulation. In the U.S. the regulator took action against several fund raisings made through initial coin offerings but did not ban or place limitations on the industry itself. The North American Securities Administrators Association warned investors that those suffering damages after participating in ICOs or investing in companies operating in the domain, not all of which are following the rules laid by the U.S. Securities and Exchange Commission, might find the regulator's hand tied when approached for assistance.

No known action has been undertaken by China against companies operating in the industry, but the country banned ICOs, as did South Korea. China also banned several cryptocurrency exchanges, saying it is attempting to eradicate negative phenomena in the industry.

In recent months there has been great public interest in cryptocurrency and specifically bitcoin, the authority said in its plan, and wherever those words are mentioned the public displays herd mentality, without necessarily being aware of the risks involved in such investments.

This phenomenon is apparent especially in small companies with limited trading or without any real operations, who after announcing they are planning or considering a pivot into cryptocurrency-related activity started seeing an abnormal trading scope, the authority explained.

Since it is doubtful that full disclosure regulations alone could negate the unusual risks involved, as things stand the authority is concerned that the inclusion of such investments in main exchanges where the public operates could lead to significant harm to investors, all companies operating on the exchange, the exchange itself, and the trust investors place in the exchange and in the capital market.

The authority refers especially to Natural Resources Holding Ltd., an Israel-based shelf company that jumped as much as thousands of percentages on the exchange within weeks of announcing it would enter the bitcoin mining business through a merger with a Canadian company. A spokesman for Natural Resources, now Blockchain Mining Ltd., said that while after the merger the company would have over $30 million in equity, it is doubtful whether it would be considered as operational for at least three years, as per the suggested regulation.

In late December the authority's chairman Shmuel Hauser first announced the authority will move to bar companies whose market value is primarily based on a virtual currency from the exchange. In Thursday's plan, the authority wrote that while Blockchain Mining's announcement sent its value soaring, later announcements by companies saying they would enter the industry did not create such an abnormal change in stock value, and in some cases even started a downtrend for said companies. However, "as of today, it is too soon to say whether the phenomenon has been halted."

The authority makes a distinction between blockchain technology, which it considers "a growing and dynamic industry, which offers much potential for technological, financial and business innovation," and digital currency. According to the authority, cryptocurrency generates "ambiguousness when it comes to taxing, money laundering prevention, cyber defense and protection of investors," since it has no central entity behind it.

The authority considers the recent announcements of companies about a potential pivot to cryptocurrency as an attempt to introduce speculative activity into the exchange, out of an expectation that cryptocurrency will increase in value, while the industry still carries great uncertainty and might expose investors to a dangerous investment avenue.

The question now is how the authority intends to demand the delisting of such companies that are already being traded on the exchange, and how the process will transpire if approved.