Student Financial Aid Startup Frank Raises $10 Million
The investment round was led by Marc Rowan, co-founder of Apollo Global Management, with participation from Israeli VC Aleph
Student financial aid startup Frank raised $10 million in an investment round led by Marc Rowan, co-founder of Apollo Global Management, with participation from Reach Capital and Aleph Venture Capital, a U.S.-Israeli fund that previously invested in insurance startup Lemonade and coworking startup WeWork. The company announced the round in a statement last week.
For daily updates, subscribe to our newsletter by clicking here.
Aleph led a 2017 investment round in Frank, in which the startup raised $5.5 million.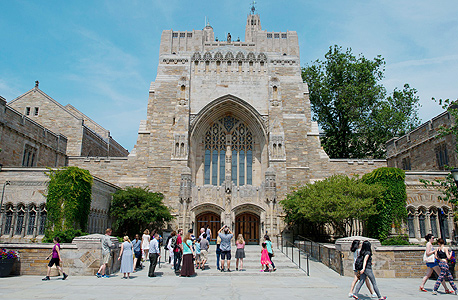 Yale University campus. Photo: Bloomberg
Founded in Tel Aviv in 2016 by 25-year-old former banker Charlie Javice, Frank is operating out of New York and Tel Aviv. The company set up to simplify the process of discovering—and applying for—financial aid opportunities for prospective higher-education students.
More specifically, Frank is targeting FAFSA, or the Free Application for Federal Student Aid, the governmental system in which U.S. students apply for aid, considered to be heavily bureaucratic and easy to get wrong.
In the U.S., the annual cost of attending college could reach tens of thousands of dollars. Many students and their families depend on student loans in order to attend college and go on to amass substantial debt by the time they graduate. On the other hand, the U.S. government invests billions annually into student aid schemes, but some of the funding goes unclaimed, partially due to errors in aid applications.
According to the Frank website, the company's service simplifies the application process, allowing prospective students to apply within minutes. Additionally, the company offers premium services in the form of application audits and advisement and negotiates with universities over additional support for students. According to the company, more than 200,000 students received aid valued at over $5.5 billion through the Frank platform since it was launched.
"The higher education system in the U.S. is inefficient, and it is time to make changes," Michael Eisenberg, a co-founding partner in Aleph, said in a statement. "It is inconceivable that in the 21st century when information is so accessible, people will be held back because they cannot afford education."