Israeli Company Developed a Blueberry Sized Cherry Tomato
Modified to match the arid condition of Israel's Arava desert, the tomato is smallest ever cultivated in the country
In the succulent world of cherry tomatoes, one Israeli company is going smaller than ever before.
For daily updates, subscribe to our newsletter by clicking here .
The Kedma company in the country's southern Arava desert has developed the "drop tomato," about the size of a blueberry—the smallest ever cultivated in Israel, perhaps even in the world.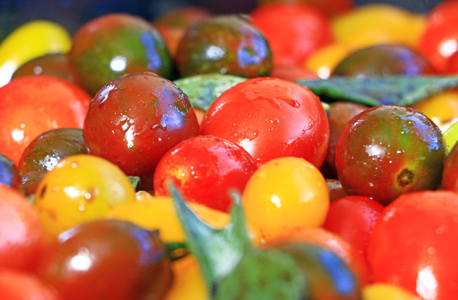 Cherry tomatoes (ilustration). Photo: Danna Kopel

It's a point of pride in a country known for its agricultural innovation, where fruits and vegetables are taken seriously and where several

strands of the cherry tomato were first invented.

The seed, originally developed in Holland, was modified to match the arid growing conditions in southern Israel. Rami Golan, of the Central and Northern Arava Research and Development center, who accompanied the project, says it's definitely the smallest to be ever grown in Israel—where tomatoes are incredibly popular.