Opinion
For Barnes and Noble, It's 1994 All Over Again
Stock of the American bookstore chain sunk to its lowest point since 1994, largely due to competition from Amazon
On January 9, the share price of Barnes & Noble Inc. sunk to its lowest point since 1994. The continued decrease seen in store and digital sales should make us book-lovers worried. What should Barnes & Noble do to survive Amazon?
For daily updates, subscribe to our newsletter by clicking here.
Barnes & Noble announced at the beginning of the month that its comparable-store sales had decreased by 6.4% (to $952 million) during the nine-week period ending December 30. Online sales (which increased on average for U.S. retailers) dropped 4.5%. It's also interesting to note that half of the deterioration in sales was attributable to drops in the music and DVDs categories, which were previously considered strong at Barnes & Noble.
Since 1997, Barnes & Noble's share price dropped by around 35% while Amazon's share gained over 81,000%. Amazon's market capitalization is around $629 billion, compared to Barnes & Noble's $389.4 million market cap. What used to be the world's largest bookseller is now an extremely far number two (though still the largest brick and mortar bookseller).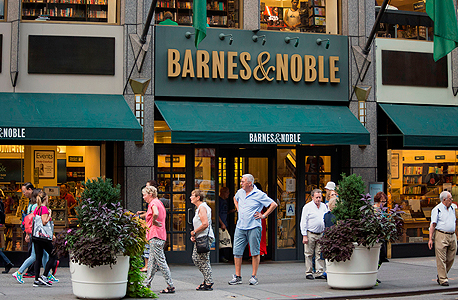 Barnes & Noble, New York. Photo: Bloomberg
Barnes & Noble's New York City flagship store used to be my favorite place in the world. To this day, if I have an hour to spare between meetings when I'm in the city, a Barnes & Noble store would be my preferred destination. Unfortunately, the company is struggling. The main source for the decrease in sales is, as we can all guess — Amazon. Amazon keeps pushing its Prime program, handing out trial memberships to 4 million people in one week during the past holiday, and it had a record holiday season. It should be noted that Amazon has also opened 13 physical bookstores so far. Barnes & Noble currently has 634.
In July 1998 Barnes & Noble's share price was almost $18 dollars. In a 1998 Fortune piece Nina Musk quoted Suzanne Zak, head of a money management group at Zak Capital, then a large Barnes & Noble shareholder. Ms. Zak told Ms. Musk of the day she began to take Amazon's Jeff Bezos seriously. On July 24, 1998, she attended a meeting hosted by Amazon.com for analysts and money managers. At the time, Ms. Zak stated:
"Initially, like a lot of people, we were skeptical of Amazon. But at that meeting, listening to Bezos, a light bulb went off. I said, 'We're going to have a problem here'."
Barnes & Noble's current CEO, Demos Parneros, only joined the company in November 2016, and was appointed CEO in April 2017. His game plan includes reducing Barnes & Noble's cost base, decreasing store sizes, and experimenting with in-store restaurants and bars. These moves make sense, but I can't see them making a significant and deep enough change.
I believe Barnes & Noble is still a very important brand. It's the first name that comes to mind when you're looking for a bookstore. It should be able to fight back — if it receives the right financial, technological and logistical backing. I believe that with the right digital moves, and with a strong logistic backbone,  Barnes & Noble could actually have a bright future. Yet, with a less than $400m market cap, the likely scenario is a private equity-backed acquisition, more cost cutting and/or short term investments, "financial makeup", etc. Being bought by a private equity firm won't really make a huge difference or give the company a proper chance to regain a leadership position.
It has been used too much as a solution for struggling retail companies, but one can't escape the image of a knight in shining armor coming to save the brand: Marc Lore and the new dawn for Barnes & Noble. Mr. Lore, a new retail celebrity, was the founder and CEO of ecommerce Quidsi Inc. (Diapers.com) until it was bought by Amazon (who shut it down completely in March 2017). Lore is now Walmart's CEO for U.S. ecommerce, after Walmart bought his latest company Jet.com for around $3 billion. Mr. Lore is currently best known as the retail world's last hope against Amazon. He's the John Snow, the Luke Skywalker (or Jedi Rey). If anyone can make the impossible happen in commerce — it's him.
It won't be an easy or orthodox move for Walmart to buy Barnes & Noble, but it wasn't an orthodox move for Jeff Bezos to buy Whole Foods, either. It's an acquisition that has plenty of clear advantages and benefits for both companies. If nothing else — it will help Walmart fight Amazon on their home turf — books.
Daniel Shinar is the CEO of ClalTech, a Tel Aviv-based venture investments firm. ClalTech is the Israeli tech investment vehicle of the New York-based holding company Access Industries, founded by the U.S. industrialist and philanthropist Len Blavatnik.
Mr. Shinar serves on the boards of Berlin-based Rocket Internet, the Global Fashion Group, and several other global internet companies as Access's representative.