Israel's Military to Examine Use of Fitness Tracking Social Network Strava by Troops
"Heatmaps" showing popular workout locations on the service expose concentrations of soldiers training and patrolling in and around Israel's borders
The Israeli military is examining the use of fitness tracking social network Strava Inc. by Israeli soldiers, following reports that the service exposes the locations of military installations worldwide, including Israeli military locations.
For daily updates, subscribe to our newsletter by clicking here.
Reports started pouring in on Saturday when an Australian student first noted the security breach in a tweet. According to a Sunday Guardian report, among the exposed military locations are Western forces bases in Afghanistan, Syria, and Djibouti as well as a British Air Force base in the Falkland Islands. The service currently shows the location of Israeli bases and sensitive security sites across the country, including air bases and patrol routes near the country's border with Lebanon.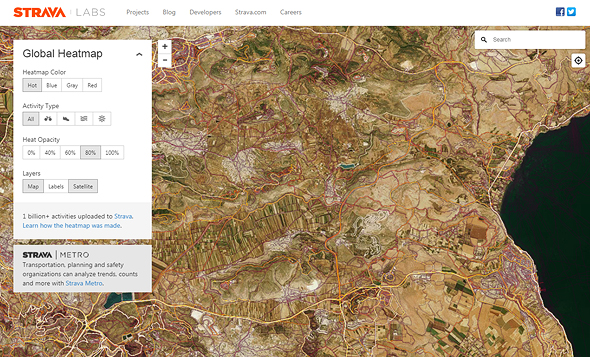 A screenshot of Strava's heatmap surrounding Netafim military base in the north of Israel

The Israeli military has recently published new directives concerning the use of smartwatches, prohibiting activation of location sharing functions, according to an email sent to Calcalist by the military's Spokesperson Unit Monday. The military will examine the use of Strava's service, "and will issue relevant directives to soldiers as it sees fit," according to the statement.

Front-end developer Ran Bar-Zik first reported that Israeli military bases were presented by the service on his blog "Internet Israel" Monday.

Founded in 2009 and headquartered in San Francisco, Strava is a website and app for tracking and sharing athletic activity by users using wearable fitness trackers and smartwatches. Strava's service uses location data to provide users with detailed statistics on their activity gathered over time, and allow them to follow other users, share their data and coordinate joint practices.

In November, Strava began publishing heatmaps—visual aggregations of data from numerous users on popular fitness, jogging and bike locations and trails. The data is anonymous and keeps personal user information private, however, it does display areas and routes where significant activity has been spotted.

Many soldiers worldwide and in Israel are Strava users and according to Mr. Bar-Zik, their activity on the social network brought to an unintentional exposure of sensitive data. If a soldier wearing a fitness tracker goes out on patrol, their data is integrated within the "heatmap", he wrote in a blog post. "If several soldiers are doing the same thing you can see not only military sites but also patrol routes—which areas are more heavily patrolled and which are not," he added.