Opinion
More Money, Fewer Deals: Five Key Takeaways from Cisco's 2017 Report on Investment in Israeli Startups
Israeli startups in 2017 raised 13% more capital compared with the year before, but saw 9% fewer deals
In 2017, the hyperactive Israeli startup ecosystem raised 13% more capital than in 2016—$4.72 billion in total—but saw 9% fewer investment rounds. This translated to higher average deal size. Further analysis reveals that a major contributing factor is the increase in growth-stage funding, attributed to the emergence of late-stage funds and the abundance of mega-rounds, such as $400 million raised by home design company Houzz, $250 million by ride-sharing company Via Transportation inc. and $140 million by cybersecurity startup Skybox Security Inc.

For daily updates, subscribe to our newsletter by clicking here.

While growth-stage funding saw an increase, early-stage funding was down.

The top sectors were cybersecurity, autonomous cars, and artificial intelligence. Acquisitions were up, including two extraordinary deals that topped $1 billion, and more than 380 new investors joined funding rounds.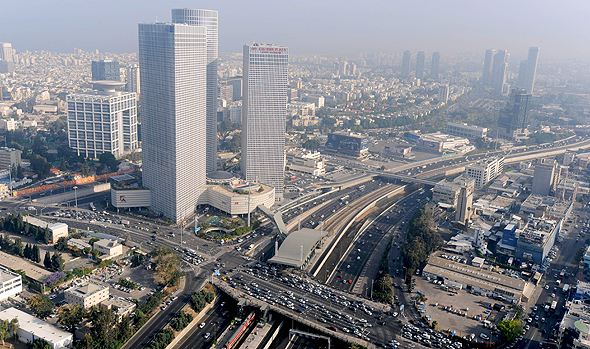 Tel Aviv. Photo: Bloomberg

"Startups and Venture Capital in Israel" is a report published by Cisco Investments in collaboration with Altshuler Shaham Benefits, Deloitte, LeumiTech, and Geektime. Here are the five top takeaways about investments in Israel.

1. Israeli artificial intelligence startups are leading a hot market

Israel is a global leader in artificial intelligence at a time when the buzz around the sector is reaching the levels of pre-2016 Big Data. Prospera Technologies, Logz.io, and Zebra Medical Vision Ltd. are a few of the many Israeli entries on CB Insights' list of top 100 global AI companies for 2017.

The report forecasts AI will become increasingly central to tech innovation and will eventually become a pervasive building block of technology stacks. Israeli AI startups raised $417 million in 2017 — a 760% increase from the year before— as investors were keen to find the next Mobileye, last year's mega-acquisition.

2. VC investments in cybersecurity companies broke records in Israel and worldwide

In Israel, VC investment in cybersecurity grew 40% to $801 million in 2017 and included large expansion rounds for companies such as Skybox Security, SentinelOne Inc., and Cybereason Inc. As network complexity increases and expands into IoT and cloud environments, the risk of serious cyber-attacks grows. We've seen an uptick in funding in a few sub-segments, such as endpoints protection and forensics, advanced threats mitigation and security operations automation and orchestration.

Interestingly, we've seen the formation of categories where Israeli entrepreneurs have a breadth of experience and deep domain know-how. In those domains, Israeli companies are innovation thought leaders. IoT security is one such category, with companies like Claroty Ltd., Cyber X, Inc., and Indegy Ltd. leading the industrial IoT front; Armis, Inc. and Axonius, Inc. in wireless; and Medigate in medical devices.

Many vendors are integrating machine learning and deep learning algorithms into their solutions. Demisto, Intezer Labs Ltd., and PerimeterX, Inc. are a few examples.

3. Transportation and autonomous vehicles are among Israel's busiest M&A sectors

Yifat Oron, the CEO of LeumiTech, called the automotive sector the year's most notable sector in Israel. Analysts forecast a decline in private ownership of cars in favor of a new model of "transportation as a service."

After Intel's historic $15 billion acquisition of Mobileye, the autonomous vehicle services startup will no longer be Israeli. However, it will create even more tech positions in Jerusalem at its new Har Hotzvim campus. Another big M&A was the $450 million purchase of Argus Cyber Security Ltd. by Continental AG. Overall, Israeli transportation startups raised $528 million in 2017, a 64% increase. Moreover, we've seen Israeli companies raise major financing rounds, with LIDAR vendors Innoviz Technologies Ltd. and Oryx Vision raising, respectively, $77 million and $50 million; connectivity player Valens Semiconductor Ltd. raising $60 million; chip vendor Vayyar Imaging Ltd. raising $45 million and data exchange startup Otonomo Technologies Ltd. raising $25 million.

The multiple disruptions the auto industry is going through, from autonomous driving to combustion engines and the ride-sharing economy, will continue to create opportunities for Israeli specialized vendors to disrupt this space.

4. Fintech startups look to alternative funding sources

Disruption in the financial industry is slower than in other sectors due to heavy regulation. Collaborating with startups is one way for banks to attempt to catch up with the pace of innovation.

In Israel, VC investments in fintech declined somewhat to $458 million in 2017. However, the sector still boomed, since companies in the blockchain and financial fields sought alternative funding through ICOs.

Notable mega-deals included online invoice factoring company BlueVine, which raised $205 million in two debt-financing rounds and online insurance carrier Lemonade Inc., which raised $120 million from SoftBank's vision fund.

5. Blockchain and ICOs have hit the ultra-hype cycle

Bitcoin value peaked at $20,000 in early December with many new investors entering the market. Moreover, in the second half of the year, volatility levels in the crypto-currency ecosystem have hit an all-time high. Additionally, startups (and funds) have raised over $4 billion in ICOs in 2017. The massive sums spurred non-blockchain startups to turn to the alternative funding source.

While ICOs may have allowed average joes to invest in startups without having to be accredited investors, they present a risk of investment opportunities which aren't vetted through the same diligence process that traditional vehicles offer.

Lastly, we've seen new implementations of blockchains in a broader set of use cases, such as security, data management, as well as service assurance and compliance.

All in all, it's been an exciting year for the Israeli startup ecosystem, and yet another example of how the vibrant community evolved and tackled new opportunities. In 2018, we expect even more advances in AI, more sophisticated IoT solutions, continued leaps in autonomous cars, and staggering growth in the global cryptocurrency market. Israel will continue to be fertile ground for strategic innovation investments.

Daniel Karp heads Cisco's investment and acquisition opportunities in Israel and Latin America.