Israel's Asylum Seekers and Tech Allies Speak Out Against Deportation Order
In December, the Israeli parliament passed by a vote of 71 to 41 a plan to deport some 40,000 refugees and asylum seekers, primarily from Eritrea and Sudan
When Israeli Prime Minister Benjamin Netanyahu announced a plan to deport tens of thousands of African asylum seekers by April, the urgency of the matter compelled many Israelis to consider the fate of the people who clean their streets and cook their meals, the dark-skinned, non-Jews who crowd Tel Aviv's distressed southern neighborhoods.

For daily updates, subscribe to our newsletter by clicking here.

Many opponents of the deportation policy appeal to humanitarian sentiment or Jewish history, but Joey Low, a Jewish-American tech investor and outspoken advocate for Israel, believes the best argument against the policy can be found in a few dozen migrants who have managed to climb out of poverty and enroll in Israeli universities.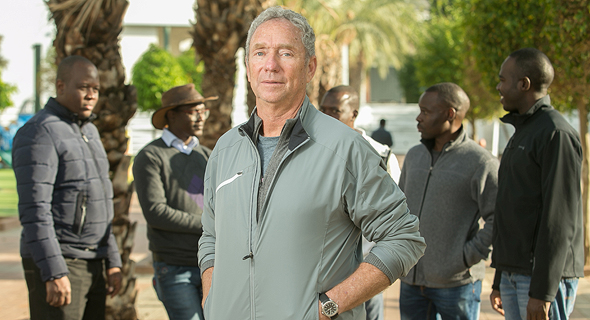 Joey Low. Photo: Orel Cohen

Mr. Low has sponsored scholarships and stipends for about 40 migrants. He says they could be goodwill ambassadors for Israel and its best weapon against the Boycott, Divestment and Sanctions (BDS) movement, which seeks to pressure Israel around the Palestinian issue.

"If they start deporting these Africans, and BDS starts saying, 'Well, look at how Israel is treating blacks,' I would have a very difficult time defending Israel," Mr. Law recently said in an interview with Israeli site Ynet News. "In fact, I couldn't. I'd have to leave the debate and let somebody else do it."

Mr. Netanyahu's deportation order offers the migrants, who come mostly from Eritrea and Sudan, a choice: leave the country voluntarily with a $3,500 grant and a plane ticket to a third country by April or face incarceration.

Mr. Netanyahu, who refers to the migrants as "infiltrators" who came to Israel seeking economic opportunities, says the offer is more than fair. His rhetoric has proven popular with his base of right-wing voters.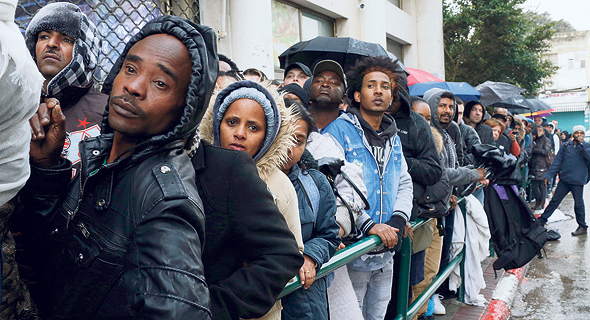 A line of asylum seekers formed outside a government office in Tel Aviv. Photo: Amit Shaal

The vast majority of the 60,000 asylum seekers who crossed the Egyptian border into Israel over the past 15 years came from Eritrea, where military conscription is mandatory and can last 40 years, and from South Sudan and the Darfur region of Sudan, which have been plagued by armed and humanitarian disaster.

Israel has approved 11 of some 14,000 asylum requests it has received.

In 2012, Israel began a crackdown to deter would-be migrants and prevent their entry, including the construction of a border fence, which was completed in 2014. By 2017, no African migrants were entering the country and some 20,000 have already left, according to Israel's population authority.

Mutasim Ali, 31, arrived in Israel from Darfur eight years ago and is about to earn a law degree with the help of one of Mr. Low's scholarships. Mr. Ali is one of the rare few who have been granted refugee status.

"I feel like I am part of Israeli society, my friends are Israeli, and I know the country has the capacity to absorb asylum seekers," he said in a recent interview with Calcalist. "These are people who can bring added value to Israel and the politicians up above don't understand it."

Mr. Ali's family lives in Darfur in a camp for displaced people. Since he arrived in Israel, he has not been able to maintain regular contact with them.

"I am on a government blacklist and our calls are monitored," he said. "They jailed my father in 2009 because I phoned him."

He said he is studying law with the goal of helping the people of Darfur and Sudan.

"Meanwhile, I am here and I'm sure I'll be able to use my legal knowledge to aid disadvantaged communities in Israel – not only asylum seekers but all minority groups, including Israelis who are being harmed by government policies," Mr. Ali added.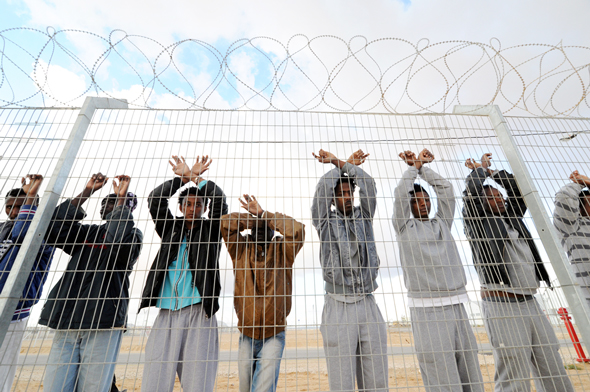 Refugees protesting deportation at a detention camp in Israel's south. Photo: Haim Hornstein

Israeli business executives, who typically avoid weighing in on political issues for fear of popular backlash, are increasingly outspoken in their criticism of the deportation order. Earlier this month, Calcalist devoted its weekend edition to showcasing appeals to the government by tech entrepreneurs and top executives.

Among the voices featured were local tech luminaries including tech investor Yossi Vardi, who has invested in over 80 startups, Dov Moran, one of the inventors behind the USB memory stick, and Benny Landa, who is credited with the development of digital printing.

"Our call to (business leaders) to voice their opposition to the deportation order led to a rare collaboration," Calcalist editor Amir Ziv wrote in the introduction to the weekend edition. "We insisted they use their full name and photo without hiding behind spokespeople, and they turned out. Their words were well-reasoned, articulate, and poignant. From their perspective, it is their duty – as Israelis, as Jews, and as human beings – to ring the alarm about the injustice of expulsion."

"I am the son of holocaust survivors. You cannot be Jewish, with Jewish principles, and deport refugees in this manner. This is the greatest disgrace," said Mr. Landa.

"The decision to deport these asylum seekers is miserable, and for many reasons, especially considering their limited number," said businessman and entrepreneur Allan (Chanoch) Barkat, the founder of the Dualis Social Investment Fund, a venture capital firm that invests in socially-oriented businesses. Mr. Barkat said that the deportation will have a negative impact on many Israeli businesses where immigrants work, and said the decision has severe social and moral implications.

The deportation plan represents "total madness, stupidity, and malice," said Ran Sarig, co-founder and CEO of Datorama Ltd., a company developing artificial intelligence-powered marketing analytics software that has been integrated into Alexa, Amazon's voice-enabled artificial intelligence service for smart devices. "We are talking about a few tens of thousands of people, who have applied for asylum but the government is intentionally not processing the requests," Mr. Sarig said. "It is true evil. Because of our own history we must do good," Mr. Sarig said. "We were all refugees once."