Online Genealogy Company MyHeritage Launches Campaign to Connect Adoptees and Birth Families
As part of the pro-bono initiative, the Israel-based company will provide 15,000 free DNA testing kits
Online genealogy company MyHeritage Ltd. is launching a pro-bono campaign to connect adoptees with their birth families, the Israel-headquartered company announced Thursday. Called DNA Quest, the initiative is open to people looking to find their birth family as well as to people looking for family members given away for adoption.

For daily updates, subscribe to our newsletter by clicking here.

Currently, participation is open only to U.S. residents regarding adoptions that took place in the U.S. MyHeritage will provide 15,000 of its DNA testing kits for free, prioritizing people that are not able to afford the service on their own.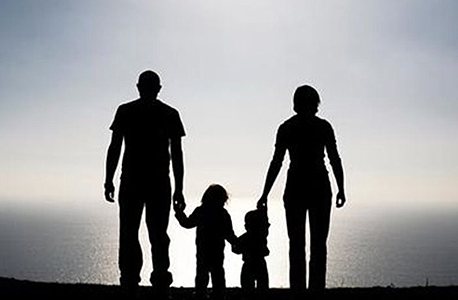 Family (illustration).
Established in 2003 by CEO Gilad Japhet, MyHeritage enables users to create family trees, and search through historical documents such as census, immigration, marriage and burial records, and also through newspaper articles. MyHeritage uses several matching techniques such as cross-referencing family trees with other family trees and historical records, or global name translation, which enables users to search for names in records that are in other languages. The company's services are available in 42 languages, and its website has over 40 million family trees and 2.9 billion profiles, according to MyHeritage.
In 2016, MyHeritage launched a genetic testing service, offering home kits containing cheek swabs that cost around $100. The service provides both DNA matching and ancestry and ethnicity estimates, and MyHeritage's database already has DNA samples from over 1.25 million people. The company also enables users to upload results from other genetic testing companies to its database, to facilitate further matches.
The new DNA Quest venture is a spin-off of another pro-bono project of the company, which sought reunite adoptees from the Israeli Yemenite community with their biological families, the company stated.
"We have a company culture of using our resources and technology for the greater good," said Mr. Japhet in a statement. "In this spirit, we've initiated several significant pro bono projects, such as returning looted assets from WWII to their rightful owners and documenting family histories and traditions of tribal peoples who lack access to modern technology. DNA Quest is a natural extension of these efforts."
"Few things are more fulfilling than a life-changing adoptee-family reunion," said CeCe Moore, founder of DNA Detectives, a popular Facebook group that connects volunteers with genetic genealogy and searching experience with people searching for their biological family. "I'm very excited to be a member of the DNA Quest advisory board and look forward to assisting participants in finding the lost loved ones for whom they are yearning."
The project's advisory board includes other professional notables, such as Susan Friel-Williams, vice president of the American Adoption Congress, and Blaine Bettinger, author of The Genetic Genealogist blog, a lawyer who also has a doctorate in molecular biology.
Applications for participation in the project can be submitted until April 30, 2018, and chosen participants can expect their results around July.