Exclusive
Microsoft Brings Home Its Startup Outreach Program
The program's global management team operated until recently from Israel, where the program had its beginnings in 2012
Microsoft is bringing home the management of its startup outreach program. Called Microsoft for Startups, the program operates accelerators in eight locations worldwide, and the company's cloud startup outreach program BizSpark. First started in Israel in 2012, the program was managed from the country until recently.

For daily updates, subscribe to our newsletter by clicking here.

On Tuesday, Microsoft shut down the Israeli management team, as part of a decision to transfer the operation to its Redmond headquarters, according to two people familiar with the matter who spoke to Calcalist on condition of anonymity.

Microsoft has yet to comment.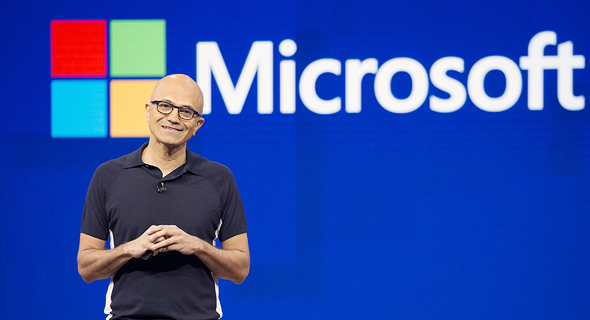 Microsoft CEO Satya Nadella. Photo: Bloomberg

In January, general manager of Microsoft for Startups Tzahi (Zack) Weisfeld announced he was stepping down and moving to an unspecified position at the company. Microsoft has already picked Mr. Weisfeld's successor, who will be based in Redmond and will report to Charlotte Yarkoni, Corporate Vice President of Cloud Growth and Ecosystems at Microsoft, one person familiar with the matter said.

Mr. Weisfeld was the driving force behind Microsoft's decision to open its first startup accelerator, as an originally Israeli initiative. The company's first accelerator opened in 2012 in Microsoft's research and development facility in Herzliya, north of Tel Aviv. The company later decided to expand the program, opening accelerators in Seattle, London, Berlin, Bangalore, Shanghai, Beijing, and Sydney, with Mr. Weisfeld remaining at the helm of the initiative.

According to the company's website over 730 startups have already participated in the program. 52 of these startups were later acquired, and the aggregated follow-up venture investments in those startups total $3.2 billion, the company said in a February announcement.

As the program expanded, Mr. Weisfeld took on wider responsibilities, bringing under the program's umbrella other startups related activities at Microsoft.

In a July interview with Calcalist, Mr. Weisfeld emphasized the importance of running the company's startup outreach programs far from the company's headquarters in Redmond. Had it been managed in Redmond, the program "would've been killed many times over," Mr. Weisfeld said.

Startups are Microsoft's "biggest future clients," Mr. Weisfeld in an interview with Israeli tech podcast "Tech in Traffic" in February. Startups "grow and become significant very quickly," Mr. Weisfeld said, adding that Microsoft must "embrace and work closely with companies that will define the future."

In a February announcement, Microsoft said it is committing $500 million to Microsoft for Startups.