NSLComm to Launch Nanosatellite with Antenna that Deploys Like a Parachute
Company raises $6.25 million to pay for November launch and develop additional models
NSLComm Ltd., an Israel-based developer of nanosatellites with flexible antennas that entwine inward, has raised $6.25 million in a Series B funding round, the startup announced Thursday.

For daily updates, subscribe to our newsletter by clicking here.

The company said the funding would be used to launch its first satellite to space in November and also to develop and manufacture two new nanosatellites.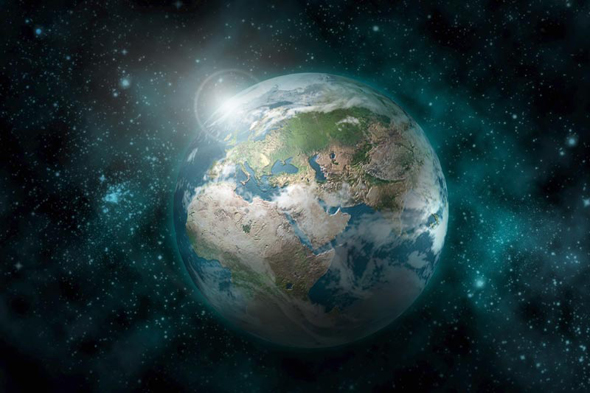 Earth as seen from space. (Illustrative). Photo Shutterstock

Investors in this round include Jerusalem Venture Partners, Jerusalem-based equity crowdfunding company OurCrowd and Cockpit Innovation, the tech investment arm of Israel's El Al Airlines.

NSLComm says its nanosatellite is designed with an "extremely flexible antenna" that is packed tight like a parachute. Once in orbit, the fabric-like antenna delpoys, extending out to become active.

This design allows their nanosatellites to carry longer antennas with stronger signals. Other models on the market can only achieve comparable data transmission speeds at a much higher cost, the company says, adding that it hopes to make nanosatellite communication more affordable.

Low-cost, high-speed satellite communication can help provide in-flight internet connectivity, for example.

"If a global commercial player must now rely on external communication networks due to the astronomical costs of launching 'its own' satellite, NSLComm's solutions enable it to launch a group of broadband nanosatellites that generate the rate of data exchange it requires, and this can be done cost-effectively at an affordable price," the company's CEO and co-founder Raz Itzhaki said in a statement.

Founded in 2015 by Mr. Itzhaki, Daniel Rockberger, and Danny Spiritus, NSLComm is headquartered in Airport City, Israel and has 18 employees.

The investment in NSLComm follows several recent announcements from Israel's nascent small-scale satellite industry. In January, Effective Space announced a $100 million contract to provide servicing to satellites using its micro-satellites, and Israeli researchers said they were planning a coordinated the launch of three satellites.