Mexichem CEO Visits Israel Following Major Drip Irrigation Acquisition
The Mexico-based company completed the deal to acquire an 80% stake in drip-irrigation pioneer Netafim in February, leaving 20% of the company in the hands of the kibbutz that founded it
Mexichem SAB de CV sees its acquisition of Israel-based drip-irrigation pioneer Netafim Ltd. as a long-term investment, company CEO Daniel Martínez-Valle, who is currently visiting Israel, said in a Wednesday interview with Calcalist.

For daily updates, subscribe to our newsletter by clicking here.

The Mexico-based pipes and chemicals company is happy to have an Israeli partner in the form of Hatzerim, a Kibbutz in southern Israel and one of the original owners of Netafim, Martínez-Valle said. When Mexichem bought an 80%-stake in Netafim according to a company valuation of $1.895 billion, in a deal finalized in February, Hatzerim retained its 20% stake.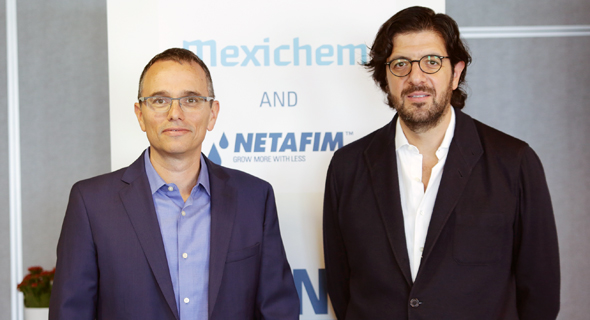 Left to right: Ran Maidan and Daniel Martínez-Valle. Photo: Dror Sitacol

Established in 1965, Netafim is the largest drip-irrigation manufacturer in the world, with 17 manufacturing plants, almost 30 subsidiaries in Israel and abroad, and some 4,500 employees. It controls around 30% of the global advanced drip and micro-irrigation solutions market, according to Mexichem's 2017 acquisition announcement.

Mexichem is one of the largest chemical and petrochemical companies in Latin America, with annual revenues of $5.8 billion for 2017 and around 18,000 employees.

While Mexichem might consider the acquisition of other Israeli companies in the future, the following year will focus mainly on synergy with Netafim, Mr. Martínez-Valle said.

The partnership will enable Netafim to expand its operations in major markets such as India, China and Latin America, Netafim CEO and President Ran Maidan said in the interview. Netafim is currently the second-largest player in the Indian market, and the largest international player in the Chinese market, he added.

Mr. Maidan said Mexichem has a culture of growth, innovation and acquisitions. The company tends to keep the previous management in place once the acquisitions are complete, he said, adding that the deal will enable Netafim to grow and to hire additional employees, both in Israel and abroad.

Mr. Martínez-Valle and Mr. Maidan did not rule out the option of listing Netafim on a public exchange in the future.