Accidents Like Uber's Could Hurt Already Fragile Trust in Autonomous Cars, Says Mobileye CEO
In an Intel newsroom post, Amnon Shashua said that despite the poor quality of the video used, Mobileye's software identified the pedestrian a full second before impact
Mobileye's ADAS (advanced driver assistance systems) software would have detected Elaine Herzberg before she was fatally hit by Uber's autonomous test car, the Intel company's Co-founder and CEO Amnon Shashua said in a blog post Monday.

For daily updates, subscribe to our newsletter by clicking here.

Last Monday, an Uber driverless car hit Ms. Herzberg as she was crossing a dimly-lit Arizona road late at night while carrying a bike. In a video released by the police, the car's driver is shown to be looking down right before impact. A Tempe police spokeswoman said the car, a 2017 Volvo, did not brake "significantly" before it crashed into the pedestrian.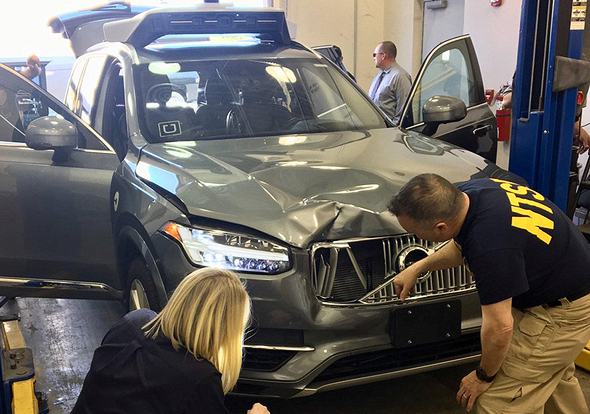 Uber's car post-accident. Photo: Reuters

Though Uber self-suspended all driving tests in the U.S. following the accident, on Monday the Governor of Arizona announced he is suspending Uber's permit to test its autonomous cars on the state's public roads, though other companies running such tests can still do so in Arizona.

Uber disabled the car's standard collision-avoidance technology, Bloomberg reported Tuesday, following an interview with a spokesman for Aptiv PLC, the company that supplied the Volvo's original radar and camera. Bloomberg also reported that Aptiv uses Mobileye's chips and sensors.

In his post, published in Intel's newsroom, Mr. Shashua said the company ran its software on a TV monitor playing the video released by the police. Despite the problematic quality of the video compared to the real-life scenario Uber's car had experienced, Mr. Shashua wrote, "clear detection was achieved approximately one second before impact."

Recent developments in artificial intelligence "have led many to believe that it is now easy to develop a highly accurate object detection system and that the decade-plus experience of incumbent computer vision experts should be discounted," Mr. Shashua wrote. And while these technologies can be helpful, proven technology and experience cannot be disregarded, especially when safety is so critical.

Autonomous driving is a rapidly growing industry. Companies like Intel, Tesla, Google, General Motors, and Daimler AG are all racing ahead in the competition. In early March, Toyota announced it has partnered with automotive supplier Aisin Seiki and Denso to invest $2.8 billion into a new autonomous driving research company. And startups operating in the domain are raising larger and larger sums of money, like one-year-old Aurora, which raised $90 million in February.

But society expects autonomous vehicles to be held to a higher standard than human drivers, Mr. Shashua wrote. Ever since the industry began, one of its main pillars was the idea that such cars would reduce the death count, not add to it. Incidents such as Uber's, however, could damage the already shaky trust the public has in the industry, and pile on regulatory difficulty at a point where most regulators have started adjusting to the notion.

"I firmly believe the time to have a meaningful discussion on a safety validation framework for fully autonomous vehicles is now," Mr. Shashua concluded, ending with an invitation to automakers, technology companies in the field, regulators and other interested parties to convene and discuss the issue.