ReWalk Launches Clinical Trials for Robotic Physical Rehab Suit
After the conclusion of the 40-person trial, the company will seek clearance from U.S. and European regulators
ReWalk Robotics Ltd. has begun clinical trials for a new wearable physical rehabilitation device

it is developing, the company announced Tuesday.

For daily updates, subscribe to our newsletter by clicking here.

The tests are being conducted ahead of ReWalk's application for clearance from U.S. and European regulators, with a target product delivery in the first half of next year.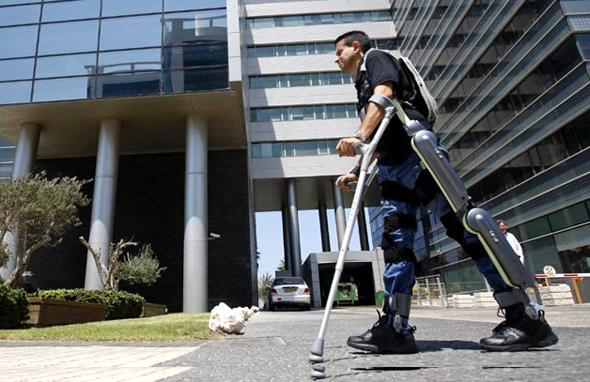 ReWalk's robotic walking aid. Photo: Reuters

Nasdaq-listed ReWalk currently offers exoskeleton walking aids for people suffering from spinal cords injuries. The new product line, called "ReStore," is a soft-frame suit meant for stroke victims learning to regain motor skills in their lower limbs.

The battery-powered suit uses software and mechanical technology to prop up the lower body at key joints.

Last week, the first clinical trial participant began using the suit last week Spaulding Rehabilitation Hospital in Boston, Massachusetts. ReWalk is aiming to enroll 40 participants at five rehab centers around the United States. Therapists can pull data on their patients from the devices.

"Launching the clinical study is a crucial step forward in the effort to offer the ReStore as a commercial product for the rehabilitation of stroke survivors worldwide," ReWalk CEO Larry Jasinski said in a statement.

Founded in 2001, ReWalk is based in Marlborough, Massachusetts and Yokneam Illit, Israel.