With No Buyers, Teva to Close Israeli Medical Equipment Plant
The facility in Ashdod is one of five Teva intends to sell or close in its home country
Teva Pharmaceutical Industries Ltd. is closing its facility in the Israeli port town Ashdod as part of its asset divestment effort, after failing to find a buyer, the company announced Monday.

For daily updates, subscribe to our newsletter by clicking here.

In December, Teva announced a reorganization plan aimed at reducing the company's debt of over $30 billion, accrued as a result of the 2016 acquisition of Allergan's generic business Actavis, which failed to pay off as the conditions in the generic drug market worsened. The company stated it will let go 25% of its employees by 2019, and close or sell over 20 facilities.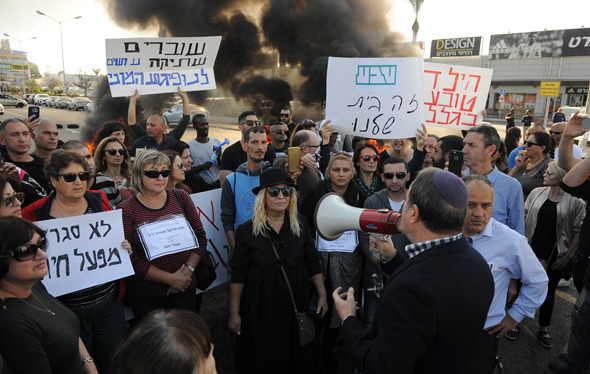 Employees protesting Teva's layoff plan, December 2017. Photo: Avi Rokach

In Israel, where Teva is headquartered and where it is considered a flagship company, the decision to divest five facilities sparked employee and union protests and led to the short-lived involvement of politicians from across the political spectrum.

The facility in Ashdod manufactures products for medical processes such as dialysis and Intravenous therapy, pain medication like Paracetamol, and anti-cancer medication. The company has been trying to find a buyer for the plant, which employs around 175 people, for the past few months.

The decision is unavoidable, Teva said, as some of the plant's operations are outside Teva's core activities, and the manufacturing of the Intravenous therapy bags, which accounts for half of the plant's output, is unprofitable.

According to the announcement, half the employees will be let go in the upcoming months, while the rest will stay until the plant's final closure in March 2019. Teva stated it will provide the employees with appropriate layoff terms, as well as placement and retraining assistance.

Avi Nissenkorn, the chairman of Israel's biggest labor union who has been at the helm of the protests against the layoffs, criticized Teva's announcement.