The 50 Startups List
Entrepreneurship Will Continue to Drive Israel's Economy Forward
As long as Israeli entrepreneurs go on to translate ideas into products that make life better, Israel's economy will continue to grow, write Check Point's co-founders Gil Shwed and Marius Nacht
Check Point Software Technologies was founded as a small Israeli startup 25 years ago by three guys in one room with a single computer. The aim: protecting information transferred on the internet. The story of how Check Point became a global company, employing thousands of people in dozens of countries and standing at the forefront of cybersecurity, is also, to a very large extent, the story of the Israeli technology industry, an industry that goes on to break its records year after year.

For daily updates, subscribe to our newsletter by clicking here.

When we founded Check Point, our dreams were similar to the those of the entrepreneurs we meet today working with local startups. We had found a problem that needs to be solved. A strong belief in our product—with a pinch of skepticism putting things in perspective—made us believe we were the right people for the job. We realized that for us to succeed, we must break out of Israel's small local market. We've done everything we can from Israel, immersed ourselves in developing the required technology, and defined the related domains in which we knew we could not succeed by ourselves. Understanding what we were and what we weren't enabled us to dare without overreaching and find the right partners that would make it possible for us to go the full mile.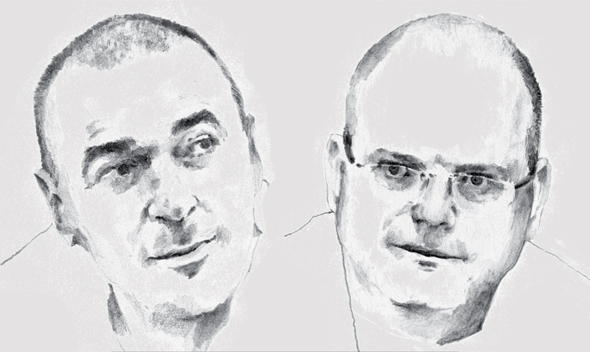 Marius Nacht (Left) and Gil Shwed

In the technology industry, 25 years is a long time—much longer than the time it takes for generations of technology products to come and go. Much has happened to us over this time. We've encountered endless challenges and learned as we go—a quality that is essential to every entrepreneur. One thing, though, remains a constant: a good idea, outstanding personal capabilities, and an attractive, growing market make for an excellent starting point. If there's something that you are particularly good at, that is where you should start. Focus on what you know to do well and create a product that answers a real need, and you may very well be able to tell your own success story even less than 25 years from now.

We are both still active in this industry, busy, each on his own, with finding ways to take technology to new places. We still meet starry-eyed entrepreneurs with extraordinary ideas daily. It's hard to predict which of these ideas would withstand the market trials, and which of the companies would become industry leaders, but the ambition to make a change and solve problems is something that is difficult to be indifferent to.

The engine that will drive Israel's economy forward is entrepreneurship. While not every new company will go public and become an industry leader, as long as Israeli entrepreneurs have the courage to go out on a limb and open new businesses, to translate ideas and personal capabilities into products that make life better, Israel's economy will continue to grow and the country will remain at the forefront of innovation.

70 years after it was founded, Israel now has more startups per capita than any other country in the world. The resources we had at our disposal when we founded Check Point in this country 25 years ago are still available to Israeli entrepreneurs, to an even larger extent. Local talent has evolved and gained new capabilities. Building on that talent, Israel needs many more companies—big and small—that work to turn ideas into reality, and believe they need to be here to make that happen.

Gil Shwed and Marius Nacht co-founded Israeli information security and Firewall pioneer Check Point Software Technologies Ltd. in 1993. For long years regarded as Israel's flagship technology company, Check Point grew at a steady pace over the last 22 years, and in 2017 the company registered $1.85 billion in revenue. Mr. Shwed remains at the helm of the company to this day. Mr. Nacht is a non-executive chairman of the company. aMoon, a venture capital firm he founded focusing on life science and healthcare companies, announced it had closed an initial $200 million for its second fund earlier this week.