Israeli Cannabis Device Developer Kanabo to Set Up Marijuana Farm in Europe
To carry out the plan, Kanabo is partnering with San Francisco-Based Cannabis Extract Manufacturer Constance Therapeutics
Tel Aviv-based vaporizer developer Kanabo Research Ltd. has signed an agreement with San Francisco-based cannabis extract manufacturer Constance Therapeutics Inc. to collaborate on establishing facilities in the E.U., Kanabo announced on Wednesday.

For daily updates, subscribe to our newsletter by clicking here.

As part of the agreement, the companies will establish a cannabis cultivation farm and a manufacturing center within the E.U., focused on the extraction of marijuana's active compounds THC and CBD, for medical treatments of PTSD, chronic pain, and insomnia. Additionally, Constance Therapeutics will market Kanabo's devices to the U.S. market.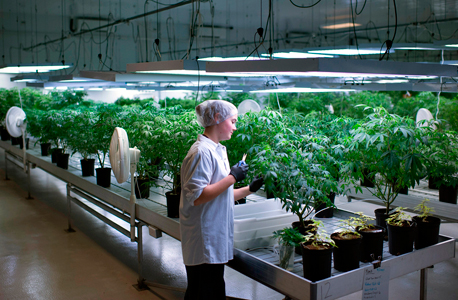 Medical cannabis lab (illustration). Photo: Bloomberg

Founded in 2017, Kanabo developed VapePod, a vaporizer that allows users to consume precise doses of marijuana extracts, which was the first such device to be certified as a medical device by the Israeli Health Ministry. In March, the company announced it is beginning trials to test marijuana extract formulas for their efficacy in treating sleep disorders and PTSD.

This move will help Kanabo accelerate production, co-founder and CEO of Kanabo Avihu Tamir said in a statement. This is crucial in light of "the delays in medical cannabis export approvals in Israel," Mr. Tamir added.

Anticipating future approval for exporting medical cannabis products from Israel would come eventually, local farmers have sunk funds to buying land and building up infrastructure. Israel's health ministry, which processes permits for growing marijuana, has received around 400 applications. Approval of exports has been delayed so far due to ministerial squabbles. Allowing the export is expected to generate around $70 million in annual revenue for the Israeli economy, according to a recently published analysis by economic advisors to Israeli Prime Minister Benjamin Netanyahu. This runs counter to prior projections anticipating annual revenues of up to $1 billion.