Israeli Medical Device Developer V-Wave Raises $70 Million
V-Wave develops a minimally invasive implanted shunt device for treating patients with severe heart failure
Israeli medical shunt developer V-Wave Ltd. announced on Thursday it completed a $70 million series C financing round led by U.S. investment firm Deerfield Management Company, L.P. with participation from medtech funds Endeavour Vision SA, Quark Venture Inc., and Aperture Venture Partners, LLC. V-Wave's existing investors, including Johnson & Johnson Innovation, Edwards Lifesciences, BRM Group, and Pontifax Ltd., also participated in the round.

For daily updates, subscribe to our newsletter by clicking here.

V-Wave develops a minimally invasive implanted shunt device for treating patients with severe heart failure. Once implanted, the device can help control elevated left atrial pressure, the primary cause of breathing difficulty and hospitalization due to heart failure, V-Wave said. The company received approval from the U.S. Food and Drugs Administration to launch an investigational device exemption study, and has launched a global clinical trial, the company said.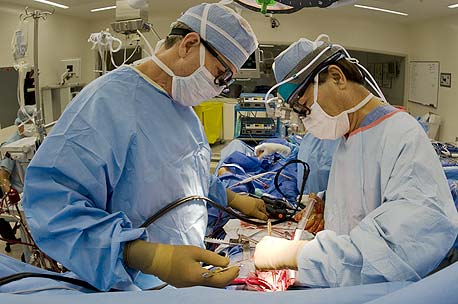 Surgeons (Illustration). Photo: Shutterstock
With this funding, V-Wave CEO Neal Eigler said in a statement, "we can pursue the science that will bring us a giant step closer to commercial release of an easy to implant device that can provide the hope for immediate and longer-term symptom relief, increased exercise capacity, decreased need for acute hospital admission, and reduced mortality with an improved quality of life for hundreds of thousands of suffering patients."