Mindspace Expands to the Netherlands with Acquisition of Local Coworking Company KleinKantoor
KleinKantoor's seven locations will be transformed to match Mindspace's offering of shared office space
Mindspace Ltd., an Israel-based provider of shared office space, has acquiring KleinKantoor B.V., which operates seven coworking locations in the Netherlands, Mindspace CEO Dan Zakai told Calcalist.

For daily updates, subscribe to our newsletter by clicking here.

Sara Martin Nazorra, who runs marketing for KleinKantoor, confirmed the deal, saying she is transitioning the role of marketing manager for Mindspace.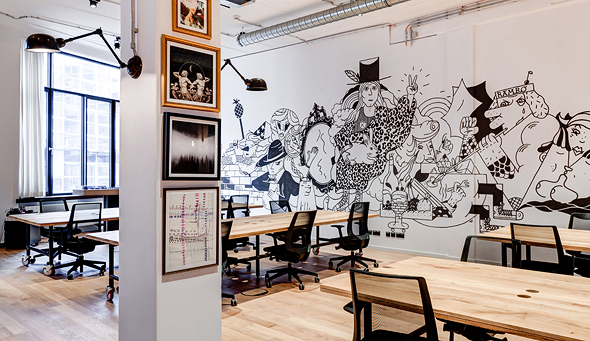 Mindspace's location in Hamburg, Germany. Photo: Boaz Arad

Founded in 2014, Mindspace is one of several Israeli companies taking advantage of the expanding market for coworking space around the world. Other names include Be All, Mixer and Labs. But largest coworking real estate company with links to Israel is WeWork, which received a $4.4 billion from SoftBank in 2017 at a $20 billion valuation. WeWork's co-founder Adam Neumann hails from Israel, and some of the company's early investors hail from the Israeli venture capital scene.

The basic business model of all these companies is the similar: taking out long term leases on office space near established tech hubs, remodeling to create a hip, stylish atmosphere and parceling the space into short term rentals for startups and entrepreneurs. In some cases, coworking companies also have designated offering for bigger companies.

The deal brings the Mindspace to its sixth country, in addition to Israel, the U.S., Poland, the U.K., and Germany, and total number of its locations to 25. The company offers a total of 80,000 square meters (860,000 square feet) of coworking space, enough to house about 10,000 workers.

Mindspace plans to gradually phase out the KleinKantoor brand with all seven of its locations redesigned to match Mindspace's aesthetic and upgraded with additional services for tenants.

The main selling point for the Mindspace was the prime locations of KleinKantoor's real estate, Mr. Zakai said. The commercial real estate market is "red hot," making it hard for newcomers to break in, he added.

"What's unique about KleinKantoor is its locations," he said. "The buildings are amazing, right at entrance to the city, in the best spots."