Israeli Dronemaker Aeronautics Completes Acquisition of U.S. company Chassis Plans
Aeronautics first announced the deal in September, but the acquisition was jeopardized when the dronemaker came under police investigation in Israel
Israeli dronemaker Aeronautics Ltd. announced in a filing to the Tel Aviv Stock Exchange on Sunday that it had completed the acquisition of U.S.-based company Chassis Plans Inc., first announced in September 2017. Aeronautics paid $2.3 million in cash at the time of closing and is set to pay an additional sum pending sales milestones.

For daily updates, subscribe to our newsletter by clicking here.

In September, Aeronautics agreed to pay $6 million for the San Diego, California-based military and industrial computer system manufacturer, and the deal was subject to regulatory approval in the U.S. Aeronautics first said it expects to complete the deal by the end of November, later pushing the deal's deadline to the end of May 2018.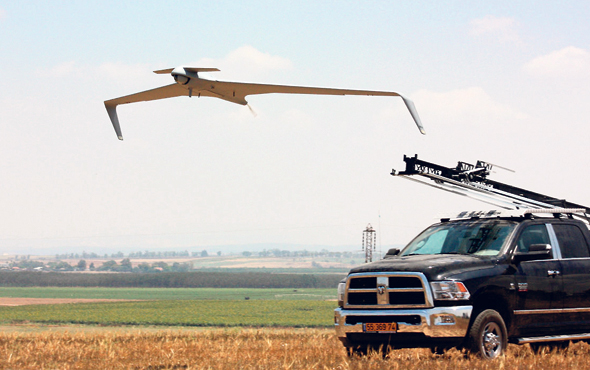 An Aeronautics UAV. Photo: PR

Founded in 1997, Aeronautics specializes in the development of unmanned aerial Vehicles (UAV) for military use and has over 45 defense, military, and homeland security customers worldwide.

A police investigation in Israel was the reason Aeronautics' deal was delayed. In November 2017, Israeli police announced that the dronemaker is being investigated in relation to a deal it signed with an undisclosed, non-Israeli client.

In August 2017, the Israeli Ministry of Defense halted Aeronautics' license to export its Orbiter 1K unmanned aerial vehicle to an "unnamed but prominent customer," blocking a deal which the company valued at $20 million. Shortly after the investigation was made public, an Israeli court issued a sweeping gag order on it. Media reports preceding the gag order connected the inquiry with an incident in which Aeronautics had allegedly carried out a live demonstration of one of its suicide drones on an Armenian army post at the request of its client, the Azerbaijani army.

Following the signing of the Chassis Plans acquisition deal, Aeronautics applied for the approval of the Committee on Foreign Investment in the United States (CFIUS). Unable to proceed with the regulatory process due to the ongoing investigation, earlier this month Aeronautics said the CFIUS allowed it to withdraw its request for approval, effectively signing off on the deal.

Aeronautics said that the CFIUS holds the right to force Aeronautics to sell Chassis Plans at a later date, if it decides to retroactively reject the deal.

In a statement, Aeronautics CEO Amos Matan said that Aeronautics intends to support and expand Chassis Plans' activity and use it to establish Aeronautics' strategic foothold and sales in the U.S.