In Frenzied Israeli Coworking Market, Smaller Competitors Drop Out
The number of coworking sites in the country is expected to double in 2019, but competition takes its toll
It is just about lunchtime at the Hubz coworking space in this Tel Aviv business district, home to some of the biggest technology firms in the country, and it is eerily quiet. At a time when the stylish office space should be buzzing with people scrambling to send a few more emails or close another deal, many of the desks here are empty, and entire floors are locked. Probed, the owners half-heartedly admit occupancy stands at less than a third.

For daily updates, subscribe to our newsletter by clicking here.

For coworking spaces in Israel, competition over tenants is fierce. In recent months at least four coworking sites in the country have quietly gone under. "The market is flooded," Ronen Eylon, the CEO of Bynet Properties Ltd., which owns Hubz, told Calcalist.

In 2014, the Israeli coworking market was made up of WeWork, Regus, and homegrown Mindspace Ltd. All three offered less than 16,000 square meters of office space in the country. By 2016, the three had leases for around 43,000 square meters of Israeli offices. In 2018, WeWork and Regus alone had more than 60,000 square meters. By then, no-less than 32 newcomers have joined the market.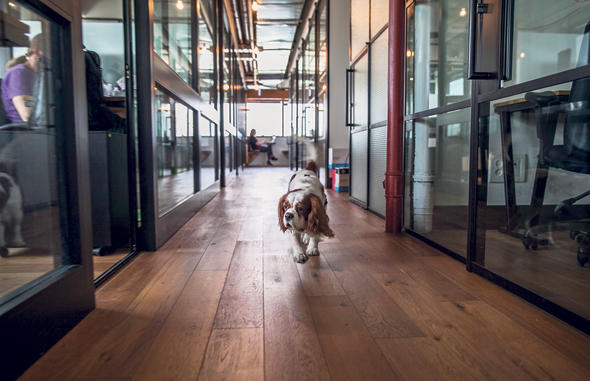 A MindSpace office space in Tel Aviv. Photo: Amit Sha'al

According to estimates by the Israeli branch of real estate investment company CBRE Group Inc., current co-working space offered in Israel tops 250,000 square meters.

In January 2017, 68 coworking sites were operating in Israel, according to Spacing Digital Ltd. a coworking space search engine. By May 2018, the number of local coworking spaces stood at 197, 71 of which located in Tel Aviv, the country's business and cultural capital.

CBRE estimates that further 50,000-60,000 square meters will be leased by coworking companies by the end of the year in Israel. By the end of 2019, the company estimates the number of sites in Israel will stand at around 400.

A small pack of homegrown companies stand at the forefront of the local industry, along with WeWork and Regus. These include MindSpace, Labs, Ayeka and BeAll, all currently expanding operations in Israel and elsewhere. German coworking company and startup accelerator Rent24, is also joining the crowded Israeli coworking market and the company has recently leased 2,000 square meters of office space in Tel Aviv. It plans on opening five or six locations here.

Tel Aviv is not the only city where the coworking market had been growing wildly. In Hong Kong, 12% of all office space is leased as coworking spaces; in London, WeWork is the largest office space renter. Market leader WeWork operates 234 locations in over 20 countries worldwide. According to data gathered by German magazine Deskmag, in 2015 there were 8,900 coworking spaces worldwide hosting 545,000 members, and now there are 18,900 spaces and 1.7 million members.

Demand for coworking spaces in Tel Aviv and its surroundings is still high. Labs, a coworking company with s Tel Aviv site located at the top floors of Israel's current tallest high-rise "reached 100% occupancy in three months," said Eitan Zinger, CEO of Spacing, a company comparing coworking spaces and offices in Israel. Other spaces, like those offered by WeWork, Ayeka, and MindSpace, are also in high capacity, Mr. Zinger said.

But some smaller competitor already ran out of breath, a turnabout which does not surprise Mr. Eylon. He cited the high costs of development. "To get the space up to snuff is an investment of at least 5,000 NIS (around $1,400) per square meter," he said.

Some see the process as a part of a natural selection.

Sharon Chen, founder, and CEO of Israeli coworking real estate company Ayeka House Ltd., said the industry is still under-regulated, and now a "process of quality control" begins.

"Those who survive are the spaces that make people feel productive, feel like they belong, feel at home," Ms. Chen said in an interview with Calcalist.

Founded in 2016, Ayeka opened its first location in 2017 in Tel Aviv's southern neighborhood of Florentin--a once shabby neighborhood now going through accelerated gentrification. Ayeka bills its offices as "premium" spaces which attract "talents" and mature startups.

Ms. Chen said she knows some of the coworking spaces are not profitable, despite presenting high occupancy. Some companies, she said, go to great lengths to lure members, offering rent-free 'trial' periods, discounts, and other freebies.

Ms. Chen firmly believes that coworking spaces answer an existing need, by offering clients flexibility they cannot find in traditional offices. "It is a transformation. A cultural change--not a bubble," she said.

However, the flexibility extended to clients means turnaround can be high.

"I see people moving from one coworking space to the next because they get an attractive price or a free month," Ms. Chen said.

As if the market was not crowded enough, native coworking companies are now joined by real estate developers in the country.

This is how Bynet found itself in the coworking sector. "At first, we tried to get coworking entrepreneurs to collaborate on a space we had under management. When that failed, we said, let's learn how to do this ourselves," Mr. Eylon said. "It was a bit of a learning curve, but at the end of the day, it is not rocket science."

Some companies fail to deliver added value to tenants, Spacing's Mr. Zinger said. Recently, he said, he got a call from a company seeking to move out of its current coworking space: the receptionists' English was not up to par, "which is embarrassing when non-Israeli guests fly-over," according to Mr. Zinger.