Tel Aviv Approves Plan to Build Israel's Tallest Building
The 100-floor, 120,000-square-meter tower is set to be constructed near the city's biggest train station
The Tel Aviv District Planning and Building Commission approved on Tuesday a plan to build Israel's new tallest tower. The 100-floor, 120,000-square-meter tower is set to be constructed on a property owned by the city of Tel Aviv, on the city's eastern outskirts.

For daily updates, subscribe to our newsletter by clicking here.

The new building is set to host offices, commerce, and temporary residence areas. As part of the plan, 10,000 square meters will be allocated to public spaces.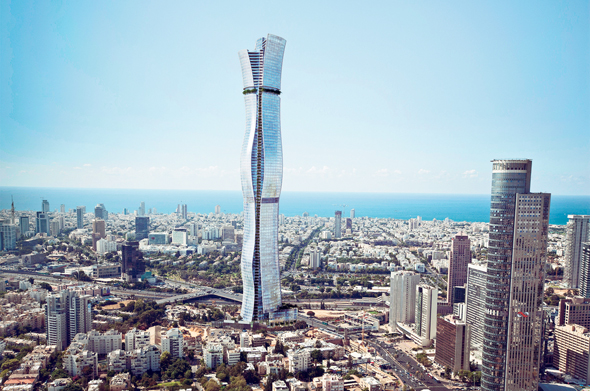 Illustration of Israel's future tallest tower. Image: Miloslavsky Architects

Architect Daniela Posek, who heads the planning and building commission, said in a statement that the plan emphasizes public spaces, and will include the structuring of a system of pedestrian bridges connecting Tel Aviv with its neighboring municipalities Ramat Gan and Givatayim.

The plan, which was commissioned by the city of Tel Aviv, was designed by architects Amnon Schwartz and Guy Miloslavsky of Miloslavsky Architects.

The city of Tel Aviv did not state the budget allocated to building the new tower, nor did it say when construction is due to begin on the new building.

Built for over $426 million (1.5 billion NIS), the Azrieli Sarona tower is one of the most expensive real estate projects in Israel.