Israel Prevented Hundreds of Terror Attacks by Monitoring Social Media, Official Says
In 2017, Yisrael Katz, then Israel's minister of intelligence affairs, confirmed Israel uses a predictive policing system that relies heavily on social media to identify and sometimes detain Palestinians thought to be potential attackers
An Israeli minister said the country prevented over 200 alleged potential terror attacks by using social media monitoring techniques on Tuesday. Speaking at a three-day conference of internal security currently held in Jerusalem, Israeli Minister of Public Security Gilad Erdan said the country had to reassess its anti-terror methodologies to combat a bout of attacks by Palestinians carrying knives, or using vehicles in ramming attacks. In 2017, Yisrael Katz, then Israel's minister of intelligence affairs, confirmed that Israel uses a predictive policing system that relies heavily on social media to identify and sometimes detain Palestinians thought to be potential attackers, as a predictive measure.

For daily updates, subscribe to our newsletter by clicking here.

According to Mr. Erdan, more than 440 attacks on Israelis have taken place since September 2015. The attacks led Israeli authorities to change monitoring and response strategies in the "operational, technological, intelligence and legal spheres," he said.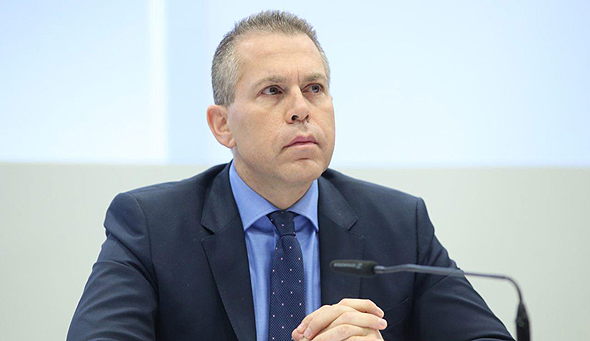 Israeli Minister of Public Security Gilad Erdan. Photo: Moti Kimchi

Mr. Erdan attributed a significant drop in the number of attacks on the new methodologies used by the country's security arms. According to Mr. Erdan, in 2016 there were 170 such serious attacks, while in 2017 the number dropped to 90. In 2018, there have been 26 attacks so far, the latest just on Monday, when an 18-year-old high school student was seriously injured in northern Israeli city Afula. The suspect, who was caught and detained by Israeli police, is a man in his 20s from Jenin, a city in the west bank.

The attacker had no known affiliations with terrorist groups, Mr. Erdan said, "but shared a number of Facebook posts glorifying terrorists."

Facebook declined to comment on the matter.

Increasing the number of patrol officers and implementing technological monitoring measures such as smart camera networks are some of the actions taken to deal with the attacks, Mr. Erdan said. Israel's defense apparatus focused resources on deepening the country's web intelligence capabilities, addressing the alleged role of online incitement in bringing about such attacks, Mr. Erdan.

Mr. Erdan castigated Twitter, saying that unlike other social media networks, Twitter usually fails to respond to requests from Israeli authorities to remove content they consider terrorist propaganda. The network allows organizations such as Hamas or Hezbollah to operate accounts and spread their incitement, he said, adding that he has sent a letter to Twitter's executive heads to demand such accounts will be shut down immediately. Mr. Erdan also stated that he is currently promoting legalization in Israeli parliament that will give Israeli authorities the ability to block such content online.

"We must make sure we are not fighting yesterday's battles but preparing for tomorrow's threats," Mr. Erdan said.

Public security ministers from over 20 countries, including the U.S., Germany, and some eastern European and African countries attended the Jerusalem event. The conference, organized by Mr. Erdan's office with the intention of tightening international cooperation in areas of counterterrorism and cybersecurity, also includes an exhibition of Israel-made counter-terrorism measures.