Brief
Startup Developing Sensor for Car's Interior Raises $3.1 Million
The sensor designed by Guardian Optical Technologies can scan the cabin of a car to detect the presence of passengers and determine their size for a variety of possible applications
Guardian Optical Technologies Ltd., a Tel Aviv startup developing a sensor for the interior of cars, announced on Wednesday a new funding round of $3.1 million. The deal brings the startup's total equity funding to $8.6 million.

The sensor designed by Guardian can scan the cabin of a car to detect the presence of passengers and determine their size. Some of the applications Guardian has proposed include alerting drivers when "small children" are left in the vehicle, and the smarter deployment of airbags based on the dimensions of passengers.

Support for Guardian in this round came from a number of investors in East Asia, including Mirai Creation Fund, Goldbell Investments, and TransLink Capital. Mirai is operated by Sparx Group and has the backing of Toyota.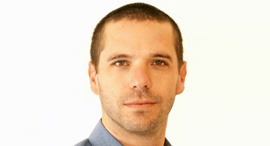 Gil Dotan, founder and CEO at Guardian Optical Technologies. Photo: PR