Intel Mulling $9 Billion Investment in Israel, Minister Says
Intel says in response that "there is no concrete investment being considered right now in Israel"
Intel is considering making a new investment of $9 billion in Israel, the country's Economy Minister said Tuesday while addressing an accountants' trade conference in the Israeli resort town of Eilat.

Intel reacted to the statement saying that "there is no concrete investment being considered right now in Israel."

For daily updates, subscribe to our newsletter by clicking here.

Eli Cohen, an accountant by profession, did not elaborate aside from saying that "Israel is benefiting from innovation, a global brand and human capital."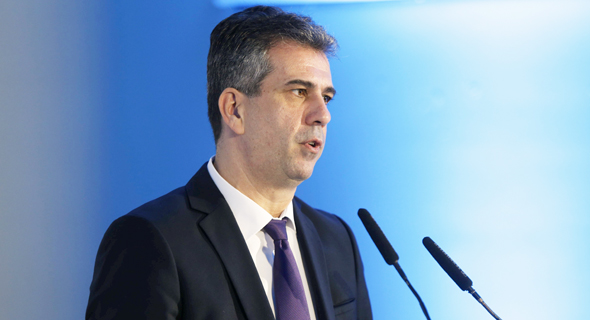 Economy Minister Eli Cohen. Photo: Amit Sha'al

When asked to specify the target of Intel's investment, Cohen said the chipmaker "specializes in processors and data, an area that is growing and growing."

The statement by Cohen comes two months after Intel confirmed that it would spend $5 billion to upgrade a semiconductor plant in the Israeli town of Kiryat Gat. Cohen said that the work on the plant would begin by the end of the year. As part of its negotiations with the Israeli government on the upgrade, Intel committed to buying a large portion of products from local companies.

If the $9 billion investment happens, Intel could become eligible for a government grant of 700 million shekels.

Intel has long maintained a substantial presence in Israel, with major manufacturing facilities, and research and development offices. Last year, the company made its biggest Israeli investment yet with the $15-billion acquisition of Mobileye, a company developing autonomous driving technology. The total amount of investments and acquisitions since 1974 is $35 billion, according to the company.

About 12,000 people in Israel are employed by Intel, including 7,000 in technology development, 4,000 in manufacturing, and the 1,000 people who work at Mobileye.