Direct Radio Contact with Stranded Thai Group Still Unattained, Israeli Technology Vendor Says
Rescue team of a group stranded inside a cave in northern Thailand use a mesh radio system developed by Israeli company Maxtech
Rescuers are unable to establish direct radio contact with stranded Thai boys, says technology vendor. Israeli businessman Moshe Ashkenazi, founder and CEO of technology reseller Add-On APAC Innovative Solutions, told Calcalist on Tuesday that he was approached by the Royal Thai Navy Special Command on Thursday to provide a mesh radio network to the search and rescue efforts taking place inside the Tham Luang cave network in northern Thailand. Using specialized equipment, communication lines are now still miles away from the stranded group, he said.

For daily updates, subscribe to our newsletter by clicking here.

12 boys aged 11 to 16 and their 25-year-old chaperone went missing on June 23 after entering the Tham Luang cave and becoming trapped there by floodwater. On Monday, after more than a week of searches, all 13 were located inside the cave system by divers. It is yet unclear if the boys could be extracted from the cave, as some experts suggest they might have to wait out the monsoon season and be rescued in three to four months when water levels inside the cave subside.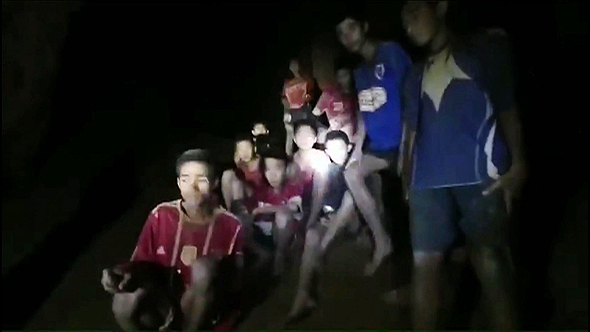 Kids stranded inside a cave in Thailand. Photo: AFP

Ashkenazi, a vendor of military grade mesh handheld radio devices by Israeli manufacturer Maxtech Networks Ltd. and other technologies, collaborated with Maxtech to provide the Thai navy with 17 radio devices, dispatching a team to help rescuers set up the radio network inside the cave. The idea was to start connecting the devices to facilitate searches and hopefully overcome difficulties and create near real-time communications, Ashkenazi said.

On Tuesday, media outlets worldwide reported that a team of rescuers and medical professionals had reached the boys, who have now received drinking water, food, and medical attention. Thai officials said that a rescue would not be attempted until the group regains strength. Rescuers say the only way out of the cave involves diving through a flooded narrow cave system stretching several miles.