Gene Discovery Startup Announces Breakthrough on Drought-Tolerant Crops
Israel's PlantArcBio has isolated the genes that help desert organisms survive. Now, the University of Wisconsin-Madison will test the genes' impact on soybean yields
A team of biotech entrepreneurs in Israel believes that the area around the Dead Sea holds the key to extending the life of crops during times of drought.

For daily updates, subscribe to our newsletter by clicking here.

They say that they have identified about a few dozen drought-resistance genes in samples extracted from the region's famously desiccated soil and from its rare stores of fresh water.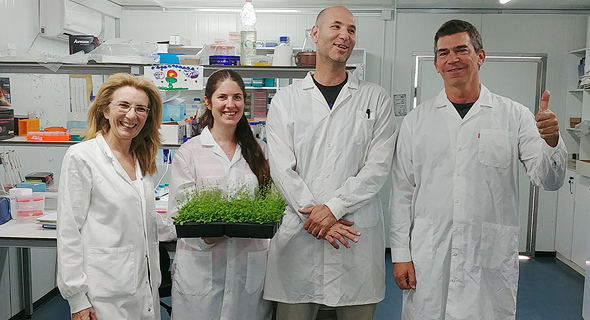 Right to left, PlantArcBio Dror Shalitin, Noam Grimberg, Arava Shatil, and Aviva Katz. Photo: PR

The startup behind the discovery, PlantArcBio Ltd., announced on Monday that the University of Wisconsin-Madison will begin testing the commercial potential of the desert genes by introducing them into soybean varieties planted at in U.S. greenhouses and fields.

"Working together to improve soybean drought tolerance could lead to major breakthroughs in the agricultural realm that would also benefit farmers in the U.S," Michael Petersen of the university's Wisconsin Crop Innovation Center, said in a statement.

Founded in 2014, PlantArcBio Ltd. recently raised $3 million from a combination of private investment funds and the Israeli government's business grant program, according to Dror Shalitin, the startup's founder and chief executive.

In an interview with Calcalist, Shalitin said his startup's patent-pending process is unlike that of other companies in the industry. Standard practice, he said, is to use computer models to engineer plant genetics for improved drought tolerance. It is in "an imitation of what happens in nature."

By contrast, PlantArcBio started with the proposition that the genes they want to isolate already exist within the microorganisms and fungi that call the desert home. But even these tiniest of living things have a complex genetic code, much of which has nothing to do with withstanding desiccation.

The scientists took the undifferentiated genetic material from the desert samples back to the lab where they began an experiment. They spliced up the DNA and added genes randomly into the seeds of about a million model plants. Growing in the startup's laboratory greenhouses, the seeds turned into plantlings.

The scientists controlled the temperature and water intake of the plants and kept track of which of them grew to maturity and survived the longest. This process ended up revealing about several dozen genes—out of a million tested—that contributed to their plant's fortitude.

"It's as if we actually managed to find the needle in the haystack," Shalitin said.