Gett Intends to Pull Out of U.S. Market, Report Says
Gett plans to sell New York-based ride-hailing app Juno, which it acquired as a foothold in the U.S. in April 2017, Bloomberg reported Sunday
Israel-based taxi-hailing app developer Gett Inc. intends to pull out of the U.S. market, Bloomberg reported Sunday citing people familiar with the matter. According to the report, Gett intends to sell New York-based ride-hailing app Juno, which it acquired as a foothold in the U.S. in April 2017 for $200 million.
For daily updates, subscribe to our newsletter by clicking here.
According to the report, the intention to sell Juno stems from its high operational costs. The report also cited another person with direct knowledge of the details, who stated that Juno has made a profit in the first quarter of 2018.
A Gett spokesman said the company does not comment on rumors in a text message sent to Calcalist Sunday.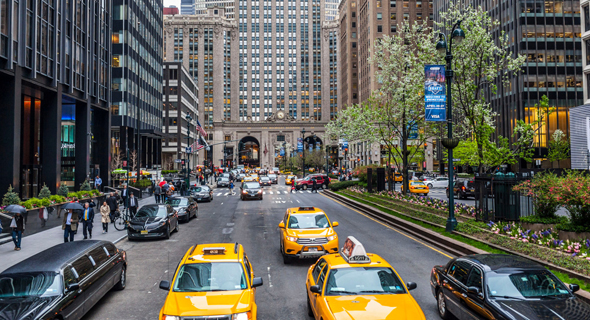 New York taxis (illustration). Photo: Getty Images
In June, Volkswagen participated in an $80 million funding round raised by Gett at a $1.4 billion valuation. This investment brought Gett's total equity funding raised to $673 million. A day before the announcement Calcalist reported Gett has aimed for $300 million to $350 million after initially hoping for a $500 million funding round.
Gett's service, which allows users to hail taxis and deliveries on-demand using a mobile app, is available in around 120 cities in Russia, the U.K., Israel and other locations worldwide.