With Datorama Acquisition Salesforce Boosts Cloud Marketing Offering
Business software company Salesforce has agreed to pay over $800 million million for Israeli marketing analytics startup Datorama
On Monday, business software company Salesforce.com Inc. announced they agreed to buy Israel-based marketing analytics company Datorama Ltd. Both companies broke the news in blog posts published to their respective websites. While the companies did not disclose the financial terms of the deal, Calcalist reported that Salesforce will pay over $800 million in cash for Datorama, citing two people familiar with the matter.

For daily updates, subscribe to our newsletter by clicking here.

Prior to its acquisition by Salesforce, Datorama has raised a mere $50 million in equity, making the deal one of the most profitable 'exits' in Israel in recent years.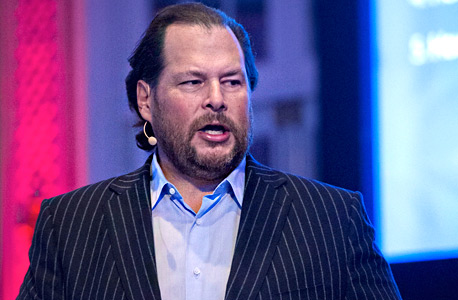 Salesforce CEO Marc Benioff. Photo: Bloomberg

In an interview on Monday, Datorama co-founders Ran Sarig and Efi Cohen told Calcalist that the entire Datorama team is set to join Salesforce, with the company's team in Israel serving as a business and development outpost.

Headquartered in New York, Dataroma was founded in 2012 by Israeli entrepreneurs Sarig, Cohen, and Katrin Ribant. The company employs over 300 people at its New York office, its Israeli research and development center, and its 16 other global offices.

Datorama develops artificial intelligence-powered marketing analytics software. "We help companies working with multiple channels of information to clean up the mess," said Cohen. "If you are advertising on Facebook, on billboards, with Google, and with online banners, you are using a lot of different systems. What Datorama does is consolidate multiple sources of data and provides advertisers with a single source of analytics."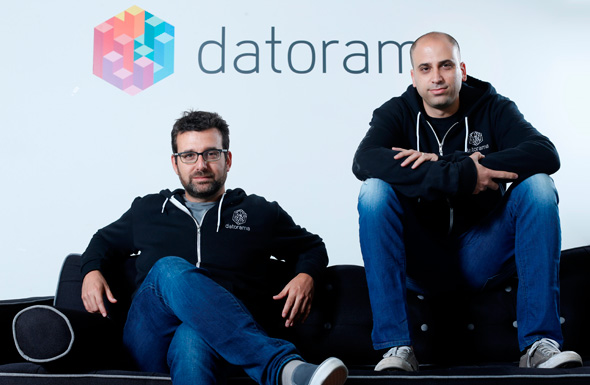 Datorama's Ran Sarig and Efi Cohen. Photo: Amit Sha'al

Salesforce significantly shored up its marketing cloud activity in 2013 with the $2.5 billion acquisition of ExactTarget, renamed as Salesforce Marketing Cloud. In recent years, it has been battling Oracle Corp. and Adobe Systems Inc. to become the number one tool for online advertising analytics. In its Monday acquisition announcement, the company said Datorama and its technology will enable it to enhance its current marketing cloud offering.

Sarig told Calcalist that negotiations moved fast. "Our sales are growing rapidly. We are proud to say (Salesforce) bought more than the technology, they bought a mature, global business."

Sarig said that he and Cohen intend to stay on board following the acquisition and help establish a research and development center that will continue to work on new products.

Israel-based Cedar Fund led Datorama's $3 million Seed funding round in 2013. The company also received backing from Lightspeed Management Company LLC, Marker LLC, and Innovation Endeavors. Marker and Cedar are expected to be the deal's biggest earners.

Listed on the New York Stock Exchange, Salesforce's stock was trending down on Tuesday.