Bosch Leads $28 Million Round for AI-Based Recognition Startup AnyVision
In June, Bosch acquired a 9% stake in the Tel Aviv-based startup, announcing a sales and technology partnership between the two
Multinational electronics company Robert Bosch GmbH has led a $28 million round for Tel Aviv-based startup AnyVision Interactive Technologies Ltd., AnyVision announced Thursday. Two unnamed "prominent U.S. private equity groups" also participated in the round, the company said.

For daily updates, subscribe to our newsletter by clicking here.

In June, Bosch acquired a 9% stake in AnyVision, announcing a sales and technology partnership between the company and Bosch's building technologies division. Bosch also stated at the time that it intends to offer AnyVision's technology as part of its portfolio.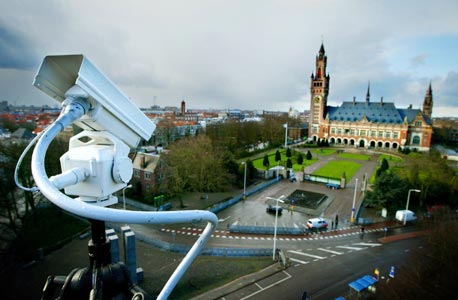 Security camera (illustration). Photo: API

This is a first investment round for AnyVision, which was founded in 2015. The company develops an artificial intelligence-based software for real-time face, object and human recognition in large crowds. The company's technology can interface with cameras for security purposes, such as in airports and stadiums, and is also used for commercial purposes, for example by retailers.

"The market is changing," AnyVision co-founder and CEO Eylon Etshtein said in a Sunday interview with Calcalist. "If, 20 years ago, you needed a key to enter your office, and now you need a card—in a few years it will be done through facial recognition. A person's face is the most advanced authentication tool there is."

While the company's first product veered towards the security sector, Etshtein said all of AnyVision's customers are from the private sector, and the company puts a strong emphasis on privacy. "Our system pixelates all identifying markers so that the people filmed cannot be identified, and the picture cannot be restored," he said.

AnyVision intends to launch two new products this year, one that enables retailers to monitor brick and mortar stores as they would online stores, and the other intended for the sports industry.

AnyVision also intends to open three new offices in Los Angeles, London, and Singapore, the company said in a statement. Currently, the company employs 130 people, mostly in Tel Aviv and some in its recently opened New York office.