Israel Hotel Occupancy Up 2.5% in First Half of 2018
Tel Aviv had the highest rate of hotel room occupancy in the country with 76.8%. Jerusalem, the Dead Sea, and the southern resort town of Eilat followed with 70%, 69.8%, and 69.3%, respectively
Hotels in Israel had an occupancy rate of 67.3% in the first half of 2018, a 2.5% rise compared to the same period in 2017, according to data released Tuesday by Israel's Central Bureau of Statistics.

For daily updates, subscribe to our newsletter by clicking here.

According to the data, Tel Aviv had the highest rate of hotel room occupancy in the country with 76.8% in the first six months of 2018, compared to 73.4% in the same period the previous year. Jerusalem, the Dead Sea, and the southern resort town of Eilat followed with 70%, 69.8%, and 69.3%, respectively.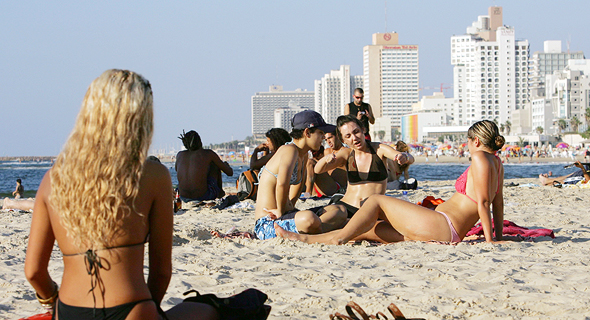 Tourists at the beach in Tel Aviv (illustration). Photo: Getty Images

Hotels in the country registered 11.9 million overnight stays during the period, compared to 11.2 in H1 2017, the data showed. This number was calculated per person staying overnight. 5.9 million of the stays (50%) were attributed to tourists from abroad.

According to data published by the bureau earlier this month, 2.18 million people entered Israel in the first half of 2018, a 19% rise compared with the same period the year before. Of those who entered the country during this time, 2.1 million were foreign nationals.