Brief
First Direct Guangzhou-Tel Aviv Flight Lands at Ben Gurion Airport
The new route is operated by Hainan, which also operates direct routes connecting Tel Aviv with Shanghai and Beijing
The first direct flight connecting Tel Aviv with Guangzhou, the capital of China's southern Guangdong province, landed at Ben Gurion Airport on Thursday. The new route is operated by Hainan Airlines Holding Co Ltd., China's fourth-largest airline company, which also operates direct routes connecting Tel Aviv with Shanghai and Beijing.

114,000 tourists entered Israel from China in 2017, a 41% increase compared to the previous year, the Israeli Ministry of Tourism said in a statement Thursday. 65% of direct flights between Israel and China are operated by Hainan and 70% of passengers on these flights are Chinese nationals, according to Hainan's data.

A subsidiary of Chinese conglomerate HNA Group Co., Hainan intends to launch a route connecting Tel Aviv with Shenzhen, a major business center in Guangdong, by the end of the year, the company announced Thursday.

The Tel Aviv-Guangzhou route was first announced in April. Upon launching the route, Hainan received a one-time 750,000 euros grant from Israel's Ministry of Tourism.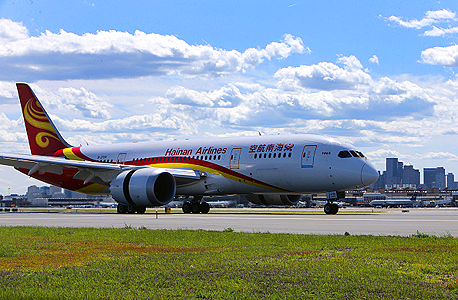 A Hainan Airlines aircraft. Photo: Getty Images