Visiting Alibaba's Hema Supermarket Store
A smart app and QR codes mean you don't have to ask the shop assistants at Alibaba's new supermarket chain anything—unless you need them to help you fish your dinner
The shopgirl at the sushi counter at the West Beijing Hema supermarket looked at me with surprise. "You must download our app to shop here," she said. "There is no other means of payment." I obeyed, logged in to the store's complimentary WiFi network, and waited for the app to load so I can pay the 68 yuans for my six-piece sushi combination.

For daily updates, subscribe to our newsletter by clicking here.

Truth is, before you download the Hema app, it is hard to fully comprehend what is so special about this supermarket chain, which is owned and operated by Chinese ecommerce giant Alibaba Group Holding Ltd. Prior to downloading the app, I was badgering the sales assistants with questions, such as where the milk is sourced from, not understanding why they looked at me funny.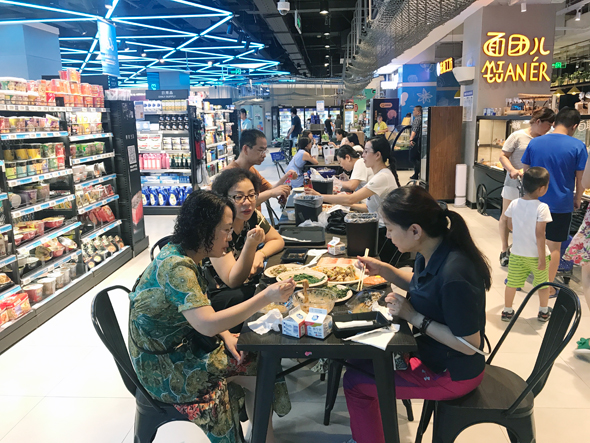 Alibaba's Hema supermarket. Photo: Ofir Dor
See, at Hema, there is no need to ask an employee. Each product has a QR code that can be scanned using the app to reveal all the information you could possibly be looking for, from the origin of the product—the milk I bought is from South Korea and the grapes from the Hebei province—to reviews, recipes, and other products you could be interested in. Just like Alibaba's online shopping sites.
The Hema chain is part of a strategy Alibaba Founder and Chairman Jack Ma calls "new retail," the merging of the online shopping with the brick-and-mortar shopping experiences. China is a global ecommerce leader, but only a small percentage of all commerce in the country takes place online. Most Chinese people still prefer shopping in a physical store.
Hema supermarkets are just one example of the way Alibaba is set to change traditional retail by introducing technology. In March, Alibaba partnered with automaker Ford to offer the new retail take on car shopping: Guangzhou-residents who shop for a Ford vehicle through Alibaba's online store can pick their car up at an automated carpark, where the car is released without human intervention. Customers can then test-drive the car for three days before deciding whether or not to keep it.
Fashion is the next retail category Alibaba is expected to disrupt. In July, Alibaba launched a pop-up fashion store in Hong Kong, in which technology is used to streamline the shopping process. The store is fitted with "smart mirrors," which clients can use to log in the items they want to try on. The selected items, in the correct color and size, are automatically sent to the fitting rooms. These smart mirrors also present information about the clothing items and suggest complimenting pieces.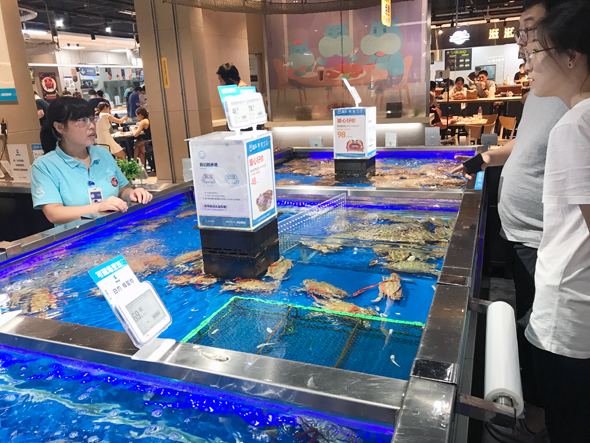 Alibaba's Hema supermarket. Photo: Ofir Dor
Shoppers at Alibaba's supermarket can see and select their produce, seafood, and meat products, and have them delivered to their homes in 30 minutes or less if they live within three kilometers from the store. These shoppers can also place their orders online and receive quick and free deliveries from their local Hema branch. Some of the Hema locations—70 of which are expected to open across China by the end of the year—even offer deliveries 24/7.
If you look up at the ceiling at a Hema supermarket you will see one of the chain's trademarks—a network of metal tracks moving canvas produce bags like a store-wide conveyor belt. These bags contain goods selected by the stores' employees based on online orders, on their way to be collected by the delivery team.
But efficiency is not the only highlights of this new chain. Hema emphasizes fresh products from all over the world, and its most popular section is seafood. Here, large tanks host tens of seafood and fish species, which shoppers can "catch" themselves, or ask for assistance.
In addition to seafood, one can find a wealth of fresh milk at Hema, which is traditionally hard to come by in Beijing. Some Hema branches have an adult section, where people can shop for sex toys and other R-rated merchandise. Fruits and vegetables all come individually wrapped in plastic.