Founders Fund Invests in a 911 Startup Backed by Ehud Barak
Emergency response startup Carbyne announced a $15 million Series B round on Tuesday
Peter Thiel's venture capital firm Founders Fund has joined a $15 million Series B funding round in an emergency response startup Carbyne, backed by former Israeli prime minister Ehud Barak. The company announced the round led Elsted Capital Partners Tuesday.

For daily updates, subscribe to our newsletter by clicking here.

Listed as Reporty Homeland Security Ltd., Carbyne develops a technology designed to enhance first response services, reducing the time it takes first responders to assess, prioritize, and act in crisis situations. Carbyne's digitized 911 system helps first responders better process incoming emergency calls using information sources including live video streaming, voice over IP, and location detection. The company reports a 65% reduction in time to dispatch.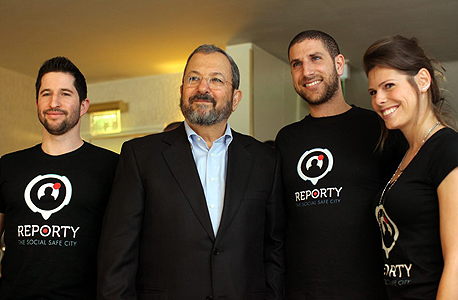 .Ehud Barak with the founders of Reporty, which was rebranded as Carbyne. Photo: Amit Sha'al

Carbyne was founded in 2014 and is based in Tel Aviv, with an additional office in New York. The company reports clients in the U.S., Latin America, Europe, the Middle East, and Asia. In 2016, Carbyne raised $5.15 million in an angel funding round led by Barak, who serves as Carbyne's chairman of the board.

This is the first investment in Israel for San Francisco-based Founders Fund. In April, Peter Thiel backed Israel-based artificial intelligence startup Epistema Ltd. through another of his venture capital firms, Mithril Capital Management LLC. Epistema developed a structured debate platform supported by automated data checks and artificial intelligence. The company targets the financial markets, technology companies, and government agencies.

Barak is the co-founder of Tel Aviv-based cybersecurity company Toka, recently backed by Andreessen Horowitz LLC and Dell EMC, through its venture capital arm Dell Technologies Capital. Listed as Cybertoka Ltd. Founded in 2018, the company aims to provide services to government, law enforcement, and security agencies.