Brief
The Bird Has Landed in Tel Aviv
Electric scooter-sharing company Bird announced its intention to enter Tel Aviv and Paris as the first step in the company's expansion outside the U.S. earlier this month
Los Angeles-headquartered electric scooter-sharing company Bird Rides Inc. began operations in Tel Aviv Tuesday, a company spokesman said following a question by Calcalist. Bird announced its intention to enter Tel Aviv and Paris as the first step in the company's expansion outside the U.S. earlier this month.

Bird's app-based service lets users locate, unlock and pay for the use of electric scooters parked in various locations around a city.

In Tel Aviv, the service will charge a flat fee of NIS 5 (approximately $1.4) for each ride and NIS 0.5 (approximately $0.14) per minute. Like in its other locations, Bird will collect the scooters for charging at night and redistribute them each morning, also giving users the option to charge scooters at home in exchange for NIS 20 (approximately $5.4) in-app credit for each vehicle. In Israel, the service will be available to users aged 18 and up.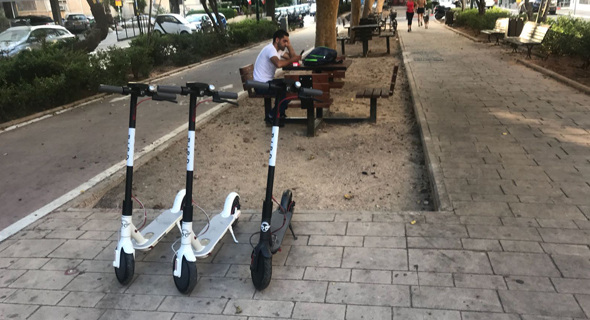 Bird e-scooters in Tel Aviv's Rothschild Boulevard. Photo: PR