Israeli Industrialists, Government in Disagreement Over Impact of Global Trade War
The brewing U.S.-centred trade war has the potential to threaten a third of Israeli exports, according to a new report compiled by the Manufacturers Association of Israel
The brewing U.S.-centred trade war has the potential to threaten a third of Israeli exports, according to a new report compiled by the Manufacturers Association of Israel (MAI), the representative body Israel's industrial sectors, and reviewed by Calcalist.

For daily updates, subscribe to our newsletter by clicking here.

U.S. President Donald Trump's protectionist policy has led the U.S. administration to impose increasing tariffs in recent months on billions-worth of goods from some of its biggest trade partners—China and the European Union, and also Canada and Mexico. The retaliations were swift to come, with China especially announcing their own tariff hikes in response to Trump's repeated raising of the bar.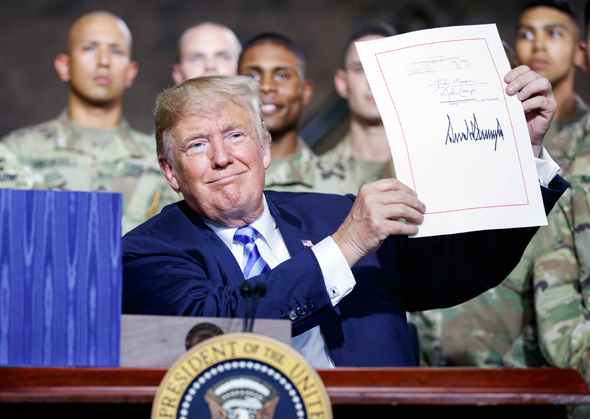 U.S. president Donald Trump. Photo: AP

MAI cites an August report by the Economist Intelligence Unit, which lowered the forecast for global growth in 2019 from 2.9% to 2.8%, as a result of the U.S.-China trade war. The Economist also upped its forecast regarding the deceleration of global trade expansion in 2019—while previously estimating the rate of expansion would drop from 4% in 2018 to 3.8% in 2019, that forecast has now been revised to 3.7%. The report authors also state that there is a relatively small possibility that fiscal policy in the U.S., China, and Europe could end up driving global growth above 4%, as 2018 growth has been robust so far.

MAI's report states that 32% of Israeli goods and services—amounting to $15 billion in 2017—are exported to countries that could be impacted from the trade war, and each 1% decrease in exports as a result could delete around $150 million annually for Israel.

According to data from Israel's Central Bureau of Statistics, in 2017 34% of Israeli goods, amounting to $16 billion, were exported to the European Union; 25%, around $11.2 billion, were exported to the U.S.; and 8%, around $3.8 billion, were to China and Hong Kong. Data for the first six months of 2018 shows that export to China has grown significantly, with $2.8 billion worth of goods exported to China alone, and another $2.2 billion exported to Hong Kong.

The Economist Intelligence Unit also stated there is a "very high" risk of the U.S.-China conflict turning into a "full-blown trade war" on additional fronts, which could "cause global trade to shrink, inflation to rise, consumers' purchase power to fall, investment to stagnate and global economic growth to slow." In such as scenario, MAI states, the impact on Israel will be much harsher, as exports account for 15% of Israel's gross domestic product.

MAI is entreating the government to take a series of steps intended to cushion potential effects, including strengthening commercial ties and signing trade agreements with unimpacted markets including India, Japan, and South Korea; monitoring and being reactionary to unfair trade practices; and accelerating programs intended to increase market productivity rates that are currently under development.

A spokesman for the Israeli Ministry of Economy said that while "a trade war is not good for the global economy and may affect Israel," it also poses "opportunities for Israeli industries and companies."

the tariffs could have a negative impact, they could also pose new opportunities for Israel, who could see its export to both the U.S. and China expanding significantly.

Senior officials at the Ministry, speaking with Calcalist on condition of anonymity, said that while the Israeli metal and vehicle will be impacted, both are marginal compared to Israel's major exports.

In July, MAI announced that Israel was not exempted from the 25% steel and 10% aluminum tariffs imposed by the U.S. earlier this year. At the time, a spokesman for the Israeli economy ministry said there is still no final answer regarding Israel's exemption or inclusion in the tariffs. in 2017, the local metal industry accounted for $414 million, according to the Israel Export Institute, a government agency intended to facilitating trade.