This Smart Ball Promises to Get Your Little Screen Junkies Bouncing
London-based Storyball develops a smart voice and motion-activated ball a child can play and interact with, either alone or within a group
Parents often complain their kids spend days in front of one screen or another, reminiscing on the good old days when they used to play outside and make friends, without any smartphones, tablets or other shiny objects to keep them company. Storyball Ltd., a London-based startup founded by a group of Israeli childhood friends, wants to unplug kids from screens. Their solution: a ball with smarts, and, surprisingly enough, a smartphone or tablet.

For daily updates, subscribe to our newsletter by clicking here.

Storyball develops a smart voice and motion-activated ball a child can play and interact with, either alone or within a group. It needs to be paired with a smart device via Bluetooth, but can then function independently within 30 feet of the device.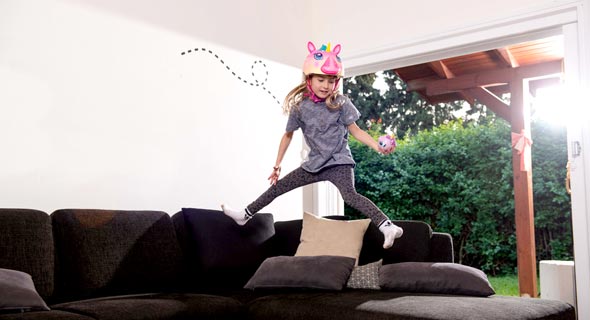 A child playing with a Storyball toy. Photo: Storyball PR

The ball can be covered in different skins, each with its own voice, personality and storylines, transmitted through the connected smart device. Each character offers the child a different experience and walks them through an interactive game in which they have to run, jump and even pretend to swim (as long as no water is involved, as the ball is not waterproof) in order to achieve goals and advance through the game.

In addition to original characters developed by Storyball, the company will also offer characters from animated children show Paw Patrol by television channel Nickelodeon, and characters from children's books by publishing company HarperCollins Publishers LLC.

Storyball launched a Kickstarter campaign in June to finance production and reached its $30,000 goal within just three days. The campaign ended earlier this month after having raised $136,126 from 1,362 backers. The company intends to begin production in August and the balls are scheduled to ship to backers by November.