In Jaffa, Luxury Hotel Built on Crusaders Era Ruins Draws Social Ire
The sprawling lobby of the newly opened Tel Aviv luxury hotel, The Jaffa, is divided by a 13th-century wall. A historic chapel was turned into the hotel's bar
The sprawling lobby of the newly opened Tel Aviv luxury hotel, The Jaffa, is divided by an ancient wall. Dated back to the 13th-century, it was discovered by chance during the hotel's 11-year-long construction and worked into the plans. In a recent conversation with Calcalist, British architect John Pawson, who designed the hotel in collaboration with local architect Ramy Gill, said that the team's working assumption had always been that excavations will unearth something of historical value. That was indeed the case. In addition to the wall, an ancient courtyard was discovered. It now hosts the hotel's central courtyard and pool.

For daily updates, subscribe to our newsletter by clicking here.

Conservation efforts are largely responsible for long delays in the construction of The Jaffa, which was scheduled to be completed in 2015 and was finally opened earlier this week. The hotel is located in the old quarter of modern Jaffa, once a thriving ancient port city which served as the gateway to Palestine, and now the underdeveloped sister to Israel's central metropolitan, Tel Aviv. The hotel was built onto the skeleton of a 19th-century French hospital, which, in its latest reincarnation served as a nunnery. It is a historically complicated place, Pawson said. His team consulted with historians to understand the context and function of the building as they drew and redrew the plans to best mold the new construction into the old.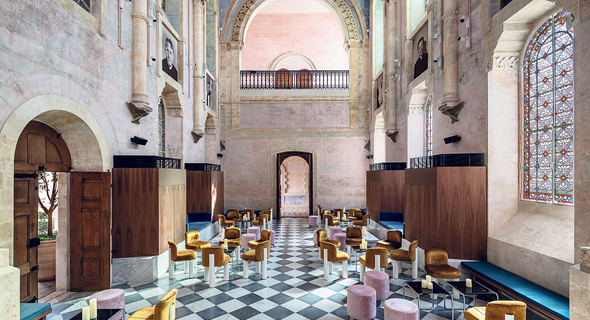 The Jaffa hotel bar. Photo: Amit Giron

The result is a contemporary structure which surrounds and encloses the original U-shaped building, featuring original details such as columns, painted floors, arched ceilings, and stained-glass windows. The Jaffa has 121 guest rooms, each unique and based on the original design, as well as 34 luxury long-term apartments. The 1,500-square-meter penthouse is on the market for $44 million (NIS 160 million).

The eye-popping real estate project has been drawing criticism from local residents, some of whom claim that it is contributing to spiking real estate prices and has damaged the city's historical legacy. Gentrification happens everywhere, Pawson says, adding that without the commitment and perseverance of the owner, New York-based developer Aby Rosen, the old building would've fallen to decrepitude. Rosen is the co-founder of RFR Holding, a real estate investment, development, and management company based in New York City. The company invested $180 million in the project.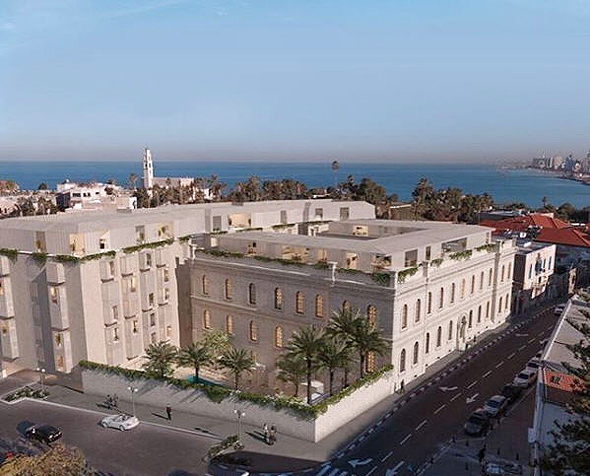 The Jaffa hotel. Photo: The Jaffa

More criticism is coming from the city's Catholic community, claiming that the developers committed to preserving a historic chapel on the premises.

The chapel has been restored and now serves as the hotel's bar.